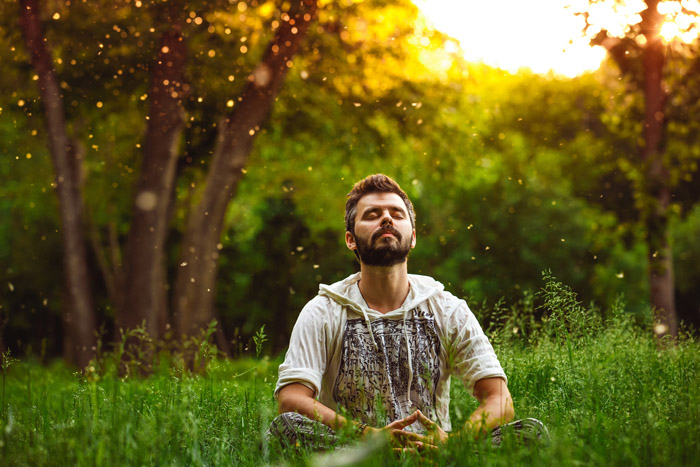 "Sitting quietly, Doing nothing, Spring comes, and the grass grows, by itself" – Basho (Zen Master)
We cannot sit ideal for a second. Sitting silently and doing nothing is the most difficult of spiritual practice. Although it looks easy to practice this, but it is not. At least not for me. You can give yourself a try.
Just try to sit silently and do nothing. Which means not even to think about anything. It is possible to sit silently physically but not mentally. After few minute of practice, your restless mind will create a desire in your mind and you will start doing something. This is something which happens to most of us. The only exception is a buddha. Sitting silently and doing nothing is difficult because our mind keeps on thinking about one thing or other. Our mind can never sit still and it does not allow inner silence to happen. Every thought leads to desire and desire lead to action. That's why most people are occupied with one thing or other. You will rarely come across someone who is sitting silently physically as well as mentally. If we want to sit silently then we have to stop our thinking process or in short stop our mind.
One of the fundamental reason for continuous thinking is that we are not satisfied with our present situation. Our inner state is not blissful or full of silence. So our mind always keeps on thinking about how to improve the present situation and make it better. That's why our mind is always thinking about past or future and it never rest. Even if you ask your mind to keep silent for a minute then also it will keep on thinking about something. The functioning of the mind is not in our control and that's why we cannot stop it at our will. Unfortunately, we are not the master of our mind.
Broadly speaking there are two reasons why we cannot rest deeply or simply do nothing.
1. The tendency of the mind which is to always keep on thinking.
2. We are not whole and blissful in the present moment.
Both these factors are related to each other or complimentary. You deal with one and other is also accomplished. e.g. when the mind stops, you experience no-mind state which is blissful and full of silence. Another way round, whenever you are blissful, the mind is not there.
Whenever you are in the present moment you are whole, content and relaxed. There are no thoughts in your mind. Remember any time when you have experienced inner fulfillment or immense joy then your thoughts must have stopped. Whenever you are here-now, the mind does not exist. Whenever you are disturbed or in pain, your mind will be very much active.
So the whole problem of sitting silently and doing nothing comes to stopping the mind. If you can stop your mind then only you can sit silently and do nothing. Different traditions and meditation techniques have dealt with this problem differently. e.g. in Zen, they have made use of Zazen meditation. In Zazen the meditator practice just sitting in one place and watching the mind and its content. Watching the mind and not getting involved in the thinking process is the one of the sure shot solutions to slow it down.
As long as we are not able to stop the mind, we won't be able to rest and enjoy the present moment. Our mind will keep on making us work and plan for future. So practice the habit of sitting silently and watching your mind so that it slows down. As your practice will deepen, the mind will lose its momentum and one day will slow down for few seconds and that will be our glimpse of eternity, nothingness and blissfulness.