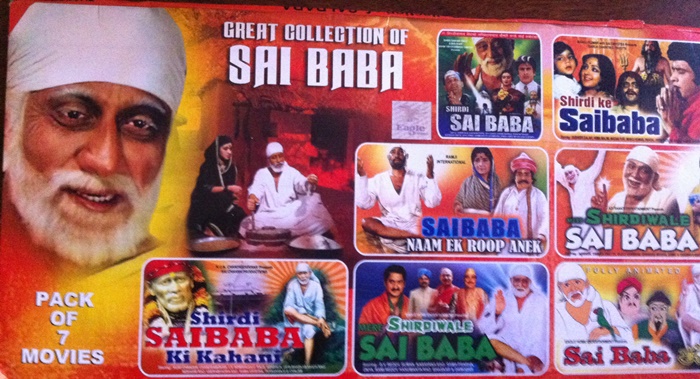 when we talk about spiritual movies of india then sorry to say that movie industry has not focused much on producing spiritual cinema. so in this collection, i have selected movies from regional cinema also specially the marathi movies. v. shantaram is one director who has made many good movies which has social message and also some very good spiritual movies.
i have not seen all popular spiritual movies of india. but definitely most of them. so based upon my liking and also considering other factors like how well the movie is directed, i am sharing my list of favorite 10 religious movies of india.
top 10 spiritual movies of india:
1. shirdi ke sai baba –
there are many movies which are made on shirdi sai baba life. but the most famous and touching movie is one in which noted bollywood actors manoj kumar and prem nath have acted. if you are a shirdi sai baba devotee then this film will definitely brings tears in your eyes.
language – hindi
2. gajaar –
this is a marathi movie which shows many facets of varkari dindi yatra to famous pandharpur vitthal temple. the movie shows the message of 18 chapters of the dnyaneshwari gita in practical life.
the story of this movie is about a director who wants to make a international standard movie on varkari sect. how his life get transformed while shooting the movie is shown in this movie. the movie won many awards and is a must watch movie for learning how some people are living the bhagavad gita message in their daily life.
language – marathi
3. sant tuka ram by v.shantaram –
again there are many movies which are made on saint tuka ram. tuka ram is one of the most prominent saint of maharashtra and he took the bhakti/devotional movement of maharashra to its peak. he was born in business class family and left everything to become vittal (form of lord vishnu) devotee.
the sant tukaram movie was produced v.shantaram (prabhat film company) in 1936 and was his most successful movie. it was also the first indian film to receive international recognition. the movie was adjudged one of the three best films of the world at venice film festival. in this movie the main emphasis is one tukaram life after he became devotee of lord vittal.
language – marathai. dvd with english subtitles are also available. one hindi movie is also made on sant tukaram which is almost based upon this movie with some scenes here and there. but if you can read subtitles in english then go for v.shantaram movie. the hindi movie is not so well made or directed. the hindi movie is good for people who don't want to watch marathi movie with english subtitles.
language – marathi
4. sant tuka ram (2012) –
this is again very well directed movie on saint tukaram. in this movie, the major portion is of sant tuka ram life before he became saint is shown.
so if you want to see both these movies on sant tukaram then first see this movie and then see the movie by v.shantaram.
language – marathi
5. meera –
saint meera was devotee of lord krishna and her devotional songs are still popular. in this movie, well known bollywood actors like vinod khanna, shammi kapoor and hema malini have acted. meera role is played by hema malini and she looks divine in this role. the movie is very well made.
language – hindi
6. jai santoshi ma –
one of the most successful spiritual movie of india released in 1975. the song "main to arti utaru" from this movie was super hit.
language – hindi
7. sant gyaneshwar –
sant gyaneshwar or jnaneshwara is one of the most prominent mystic from maharashtra. he started the bhakti movement in maharashtra which was further taken to its height by saint tukaram. he translated gita into marathi language so that common people can recite it. he left the body at the age of 22 only because he completed the mission of his life. he entered inside the temple in alandi (town in maharashtra) and took the samadhi.
language – marathi
8. my friend ganesha –
excellent movie and should be shown to kids. it will be a good education for them. in this movie, a small child prays to bal ganesha for help. the innocent prayer of the child reached to lord ganesha and how ganesha helped the child and his family is the story of the movie.
there are many good animation movies made on ganesha, hanuman, krishna and bheema. showing these animation movies is a good way to introduce gods and spiritual thoughts to small kids.
language – hindi
9. dhyanu bhagat –
noted bollywood actor dara singh has played the role of dhyanu bhagat who was a great devotee of jwala maa. jwala is a shakti peeth temple in himachal pradesh. there are 51 shakti peeths in indian sub continent which are charged with sati/parvati ma energies and are best for maa devotees or shakti sadhaks. at jwala ji temple, sati ma tonque fell down. in the temple continuous fire burns which emerges from water. mughal king akbar tried to test the devotion of dhyanu bhagat and was defeated. he also tried to check the shakti of jwala ma. they made a canal to flow through the sacred fire which emerges from the water and what happens next, i will not tell as that you should see in movie.
there is another movie dhanu bhagat in which dara singh son bindu dara singh has acted. after watching both the versions, i suggest you to watch dhanu bhagat by dara singh.
language – punjabi
10. teri jyot jale din raat
this movie is about a married woman who is harassed by her mother in law. but she is a devotee of goddess and her grace saves her from all difficulties in the end. many songs of this movie became very famous.
language – hindi
few more spiritual movies which i didn't included in the list but are also good in their own ways:
1. "nanak naam jahaj hain" – this movie was one of the most popular punjabi devotional movie of its time. it was so popular that in cinema hall, many people used to sit in ground instead of chairs while watching this movie. there used to be long queue to watch this movie. bollywood actors shammi kapoor and vimi has acted in this movie. many famous sikh gurudwaras can be seen in this movie.
2. sri chaitanya mahaprabhu – based on the life of enlightened master chaitanya mahaprabhu.
3. adi shankaracharya – people who are into vedanta will like this movie. its a intense but very dry movie. shows the life story and effort which adi shankaracharya put in reviving the hinduism.
4. durga devi shakti – its a south indian movie and very well directed. maa devotees should watch this movie.
5. "dharmatama" based upon the teachings of saint eknath. although i have not watched this movie but thought of mentioning it. as it was directed by legendary director v. shantaram.