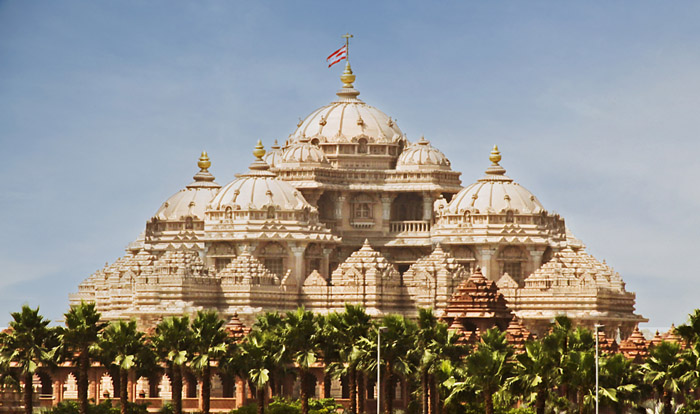 swaminarayan akshardham mandir in delhi is one of the largest temple in india. 7000 artisans and 3,000 volunteers from swaminarayan sanstha worked for 5 years to build this massive temple complex.
this is one of its kind of a temple in india. the temple complex is not only a engineering marvel but is also build very aesthetically and on a grand scale. the architecture style of different parts of india have been studied and used in the temple. the temple showcases the essence of india's ancient architecture, traditions and spiritual message.
the temple is dedicated to the life and teachings of bhagwan swami narayan. but it also shows the 10,000 years of indian history. its very well maintained and a neat and clean temple with lush green gardens and relaxing environment.
few things which you will immediately feel on entering the temple complex is the grandeur of the temple, the beautiful architecture and the peace pervading there.
few tips for visiting akshardham temple in delhi:
1. mobile phone, camera, electronic items and leather items are not allowed inside the temple. you will have to leave them at temple entrance. better to keep the phone in your car or home as you will have to spend time in queue for depositing the phone. there is enough space for parking the vehicles.
2. no personal food item is allowed inside the temple except water bottles. however good canteen facility and a big food court is there inside the temple complex. tasty and hygienic food is served inside at affordable price (value for money). next to cafeteria is a shop selling good ayurvedic products and souvenirs.
3. i suggest to wait till the end of day to see the water fountain and laser show. cultural boat ride is also very good and it covers hundreds of years of india's history.
4. you will need at least 3 hours to half a day to visit the whole temple complex selectively. its vast and very beautiful. you need time to appreciate this serene, exquisite and artistically build temple. a full day visit will give due justice to the temple. if you have only few hours then best time would be to reach at around 5 pm so that you can see sound and laser show in night. plus you won't have to face the summer heat of delhi.
5. there are many attraction in the temple complex e.g. narayan sarovar (lake) that surrounds the main monument contains holy waters from 151 rivers and lakes that are believed to have been sanctified by swaminarayan, including mansarovar. so be ready for lot of walking. although it is number one tourist spot in delhi but still you will get your space in the complex as it spread over 90 acres. one place which you can visit to experience silence and peace.
6. its a very relaxing and serene place. so if you are visiting delhi and then do consider visiting this temple. around 70% of tourist coming to delhi visit this temple. nearest metro station is akshardham.
overall, its a visit to a peaceful, well maintained temple showcasing india's heritage and spiritual message.
temple timings:
the entire swaminarayan akshardham complex is closed on mondays.
first entry to temple at 9.30 am and last entry at 6.30 pm
restaurant 'premvati' timing: 11:00 am to 8:00 pm
time needed to view akshardham main mandir and gardens: one and a half hours.
time to view hall of values, boat ride and theatre: approx. 3 hours.
check more info at temple official website.
the temple complex is spread over 90 acres and is situated at the bank of yamuna river. yogiji maharaj, the spiritual head of the BAPS swaminarayan sanstha had conceived the idea of this temple in 1968. he wanted to build the temple at the bank of yamuna river. swaminarayan sanstha had also build another akshardham temple in gandhinagar, gujarat.
musical fountain show in night – (credit from wikipedia by juthani1)
large stone step-well and a vedic yagna kund. at night, a musical fountain show representing the circle of life is played to the audience. this is one of star attraction here.
the temple complex has 20,000 murtis and statues of hinduism's sadhus, devotees, and acharyas.
temple complex also has sixty acres of lush green garden and hundreds of exquisite bronze statues of india's leading personalities.