visiting a spice farm was on one of my to do lists from a long time. so finally on a spur of a moment we decided to visit a spice farm here in goa.
in goa, there are some 4-5 spice farms. i plan to visit all of them one by one. the first visit was at the sahakari spice farm which is about 45 kms drive from where i live.
the entry fee to the visit and tour is about 400 indian rupees per person. it includes welcome tea, a delicious unlimited buffet lunch and a guided tour of about 45 minutes. the guide who took us to the through the spice farm was very good with his knowledge about the spices.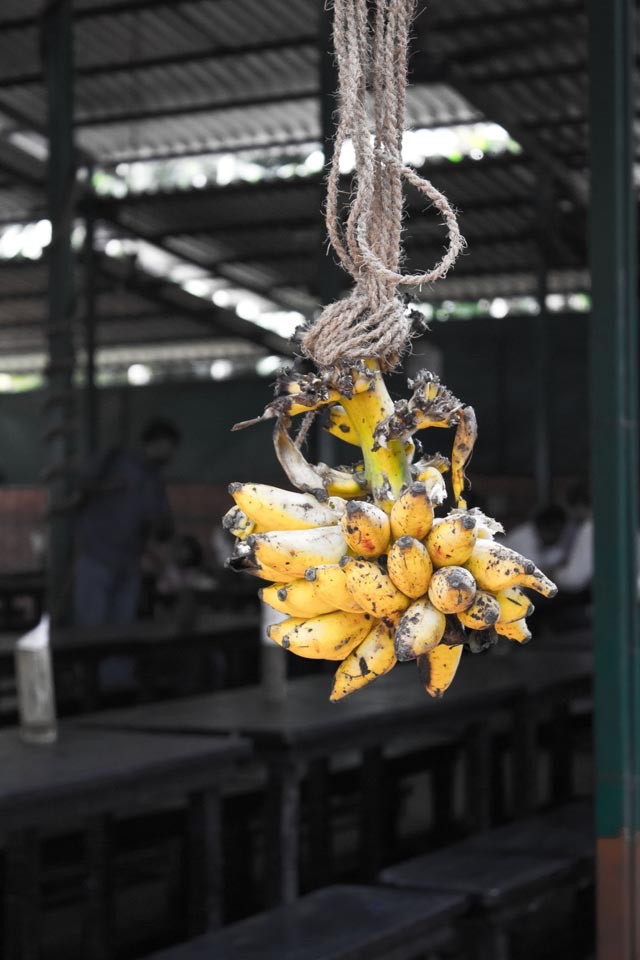 the area which they they take around the visitors and tourists is about 5 acres. the rest of the spices are grown in the 25 acres and the visitors are not allowed in this area.
since this is a spice farm, i was expecting to see many spice plants. but they did not have good number of the plants in the area meant for visitors. what i did not like was the fact that they have just planted a few samples of the spice plants just to show these to the visitors… eg: there was just one plant of all-spice.
i would have loved to see more of the spices and herbs than what was shown to me & the rest of us.
i took a lot of photos. since i cannot add all the photos, i have made a few collages. some more pics are uploaded on my facebook page here.
they have a traditional indian welcome and in the beginning what was served to us was the lemon grass-cardamom-ginger tea with some cheeselings. this special herbal tea is said to alleviate migrane.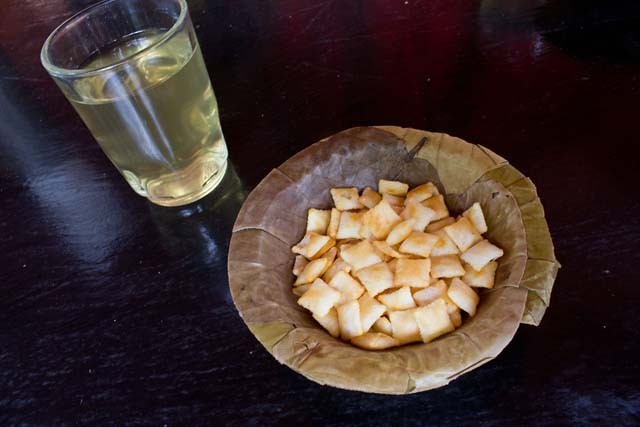 then the tour began and we were taken to different spices and herbs. i did not take pics of some herbs like curry leaves and lemon grass. reason being the curry leaves tree had fallen down and the lemon grass shrubs were too small. so below is a pic from my own kitchen balcony of my lemon grass shrub.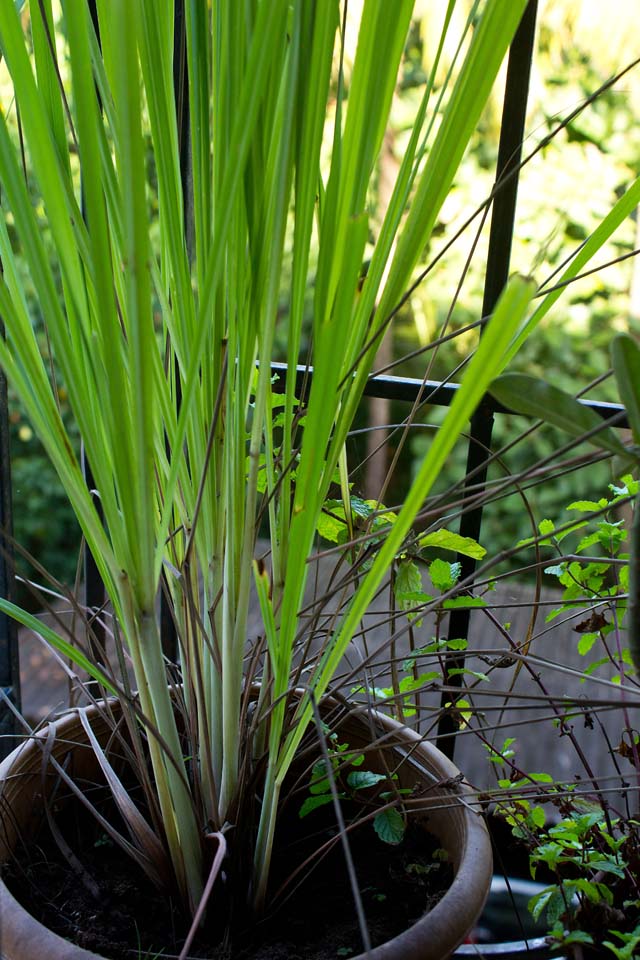 my knowledge of spices is so good, that i knew all the spices the guide showed us. i felt very proud that i know all of them and even know their medicinal benefits 🙂
the first bean that was shown to us were coffee beans. below a pic of coffee beans growing on its tree.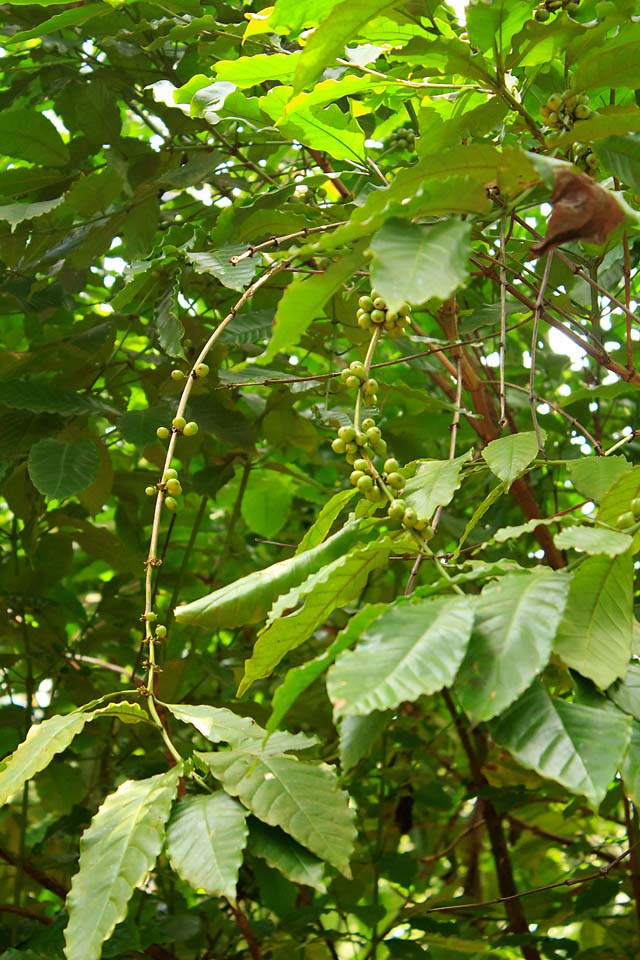 tender green coffee bean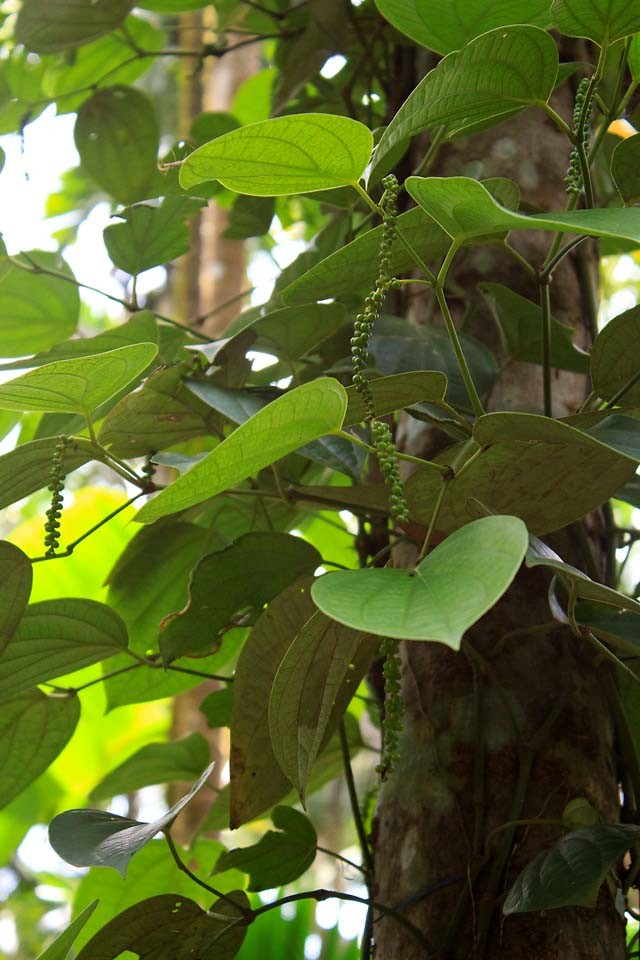 hmmm… beautiful green peppers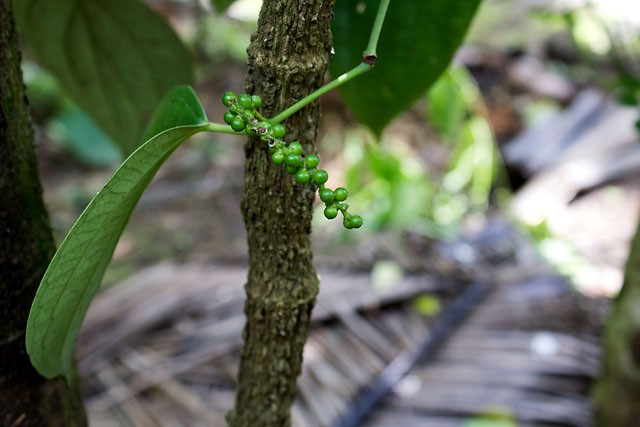 a sight which is rare – an elephant which is free and not chained being given a bath by its care taker. her name was ganga. she was beautiful & graceful. the farm has ganga along with her male partner and her baby. our guide told us they are a family. visitors can have an elephant ride for 700 rupees per person.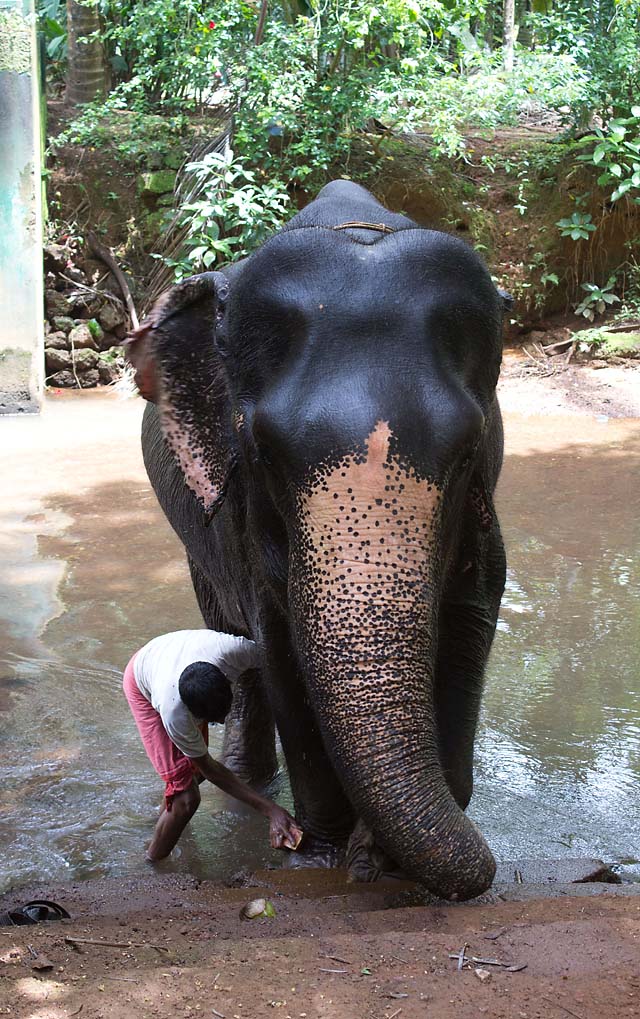 cinnamon plant – by the way did you know that cinnamon leaves can be substituted with tejpatta – indian bay leaves.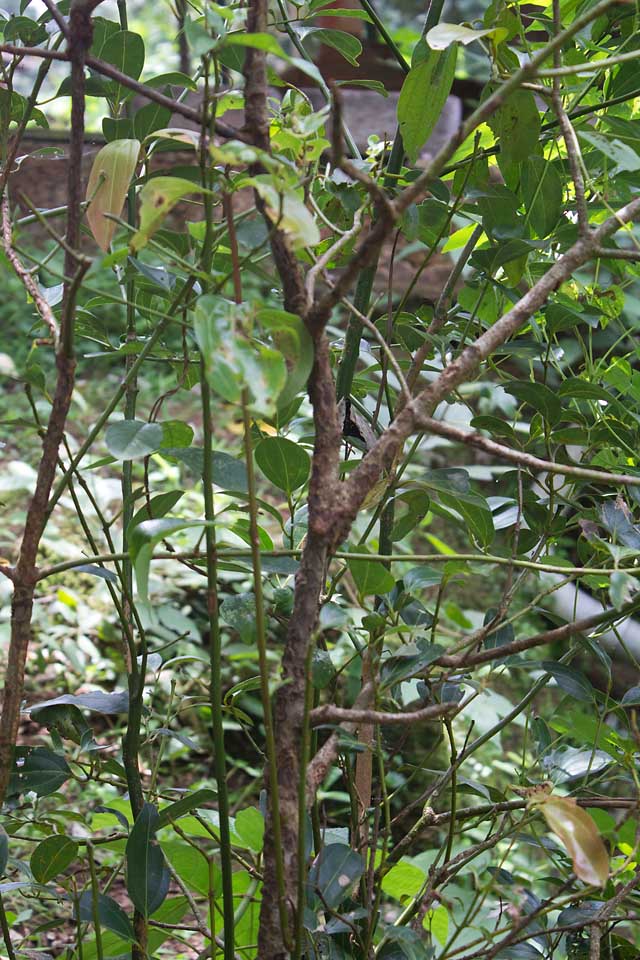 have you seen the turmeric leaves along with its flower? i see them very often here. the turmeric leaves are used in making a special goan sweet – patholi.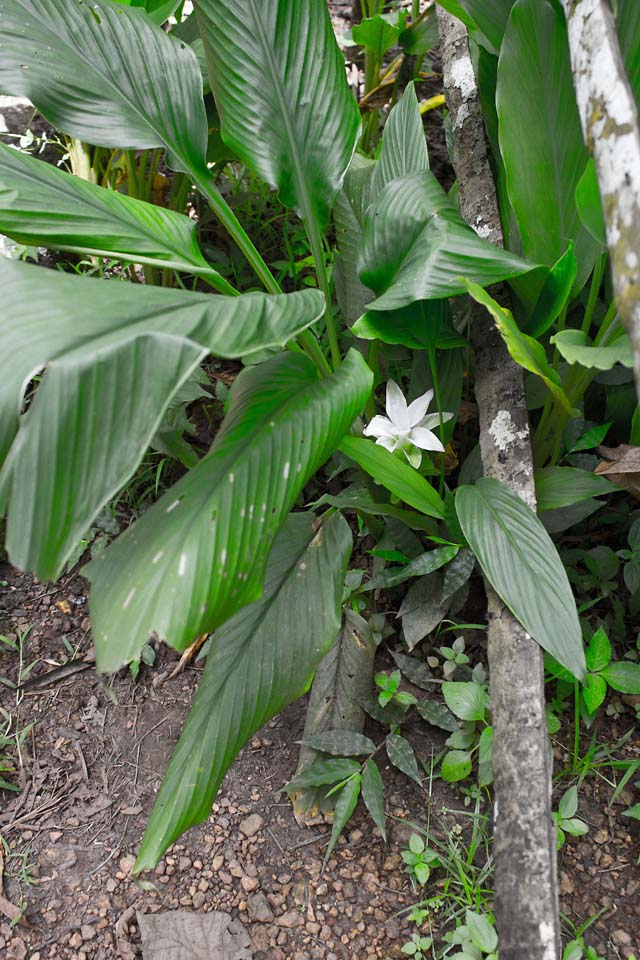 traditonal way of making cashew feni (cashew liquor). by the way cashew feni is very popular alcoholic drink in goa.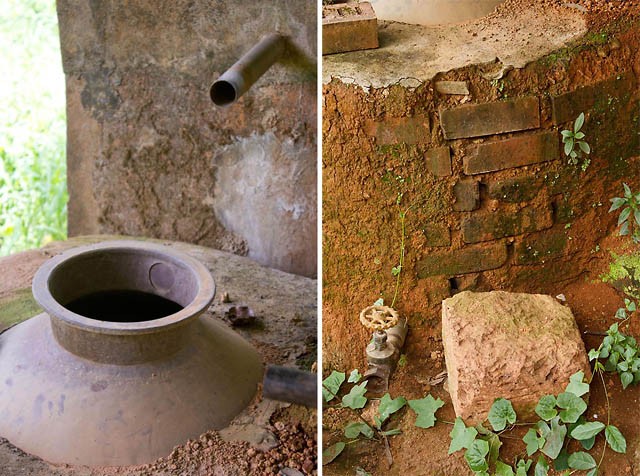 the mighty and tall teak wood tree. a short and petite woman like me cannot get the whole pic of the tree with her camera 🙁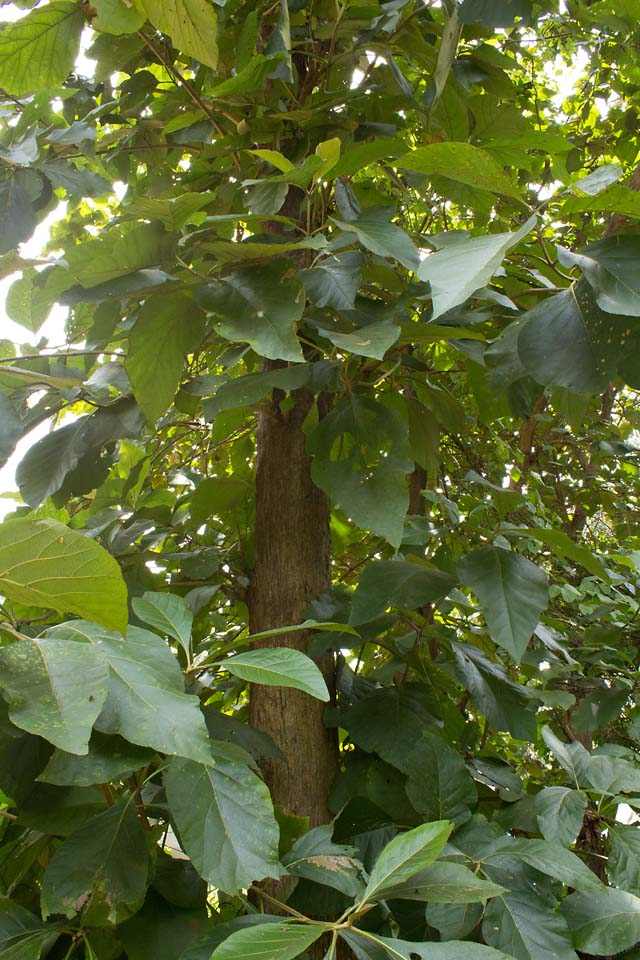 money plant creepers growing wild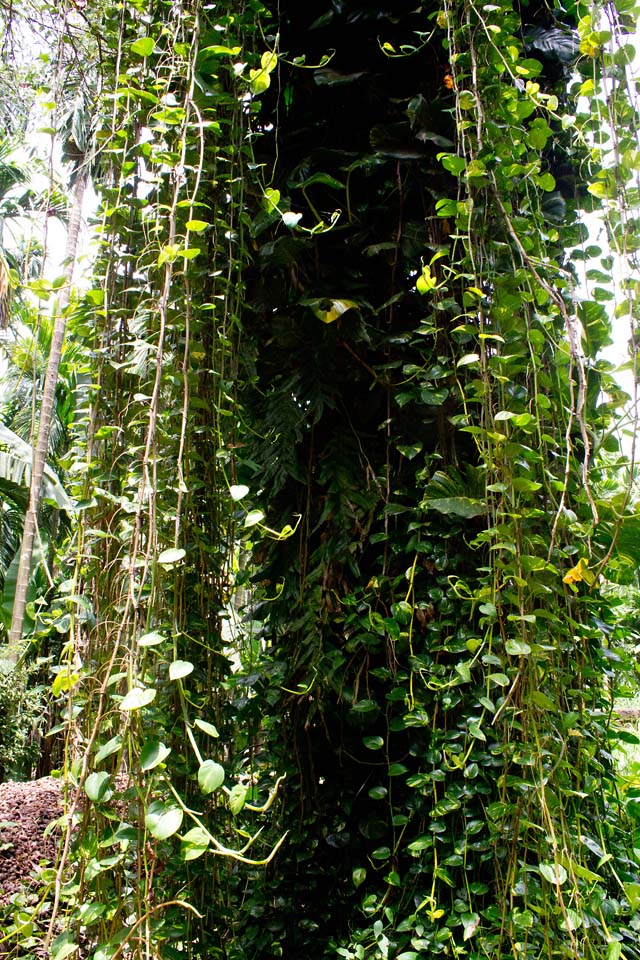 the nutmeg tree. the nutmegs were not in season 🙁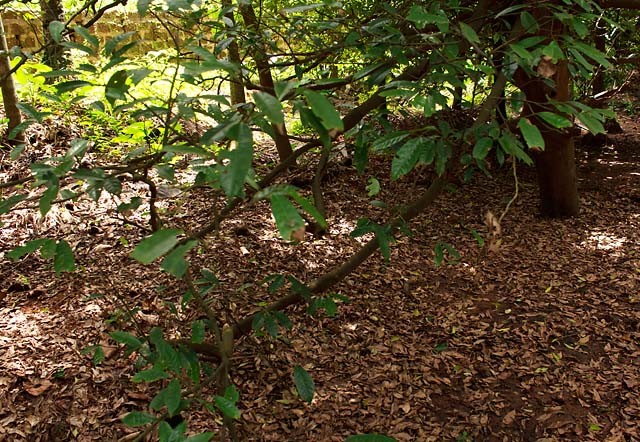 a tiny single green cardamom pod growing on its root. on one plant about 50 green cardamoms can grow. thats why cardamom is called as the queen of the spices.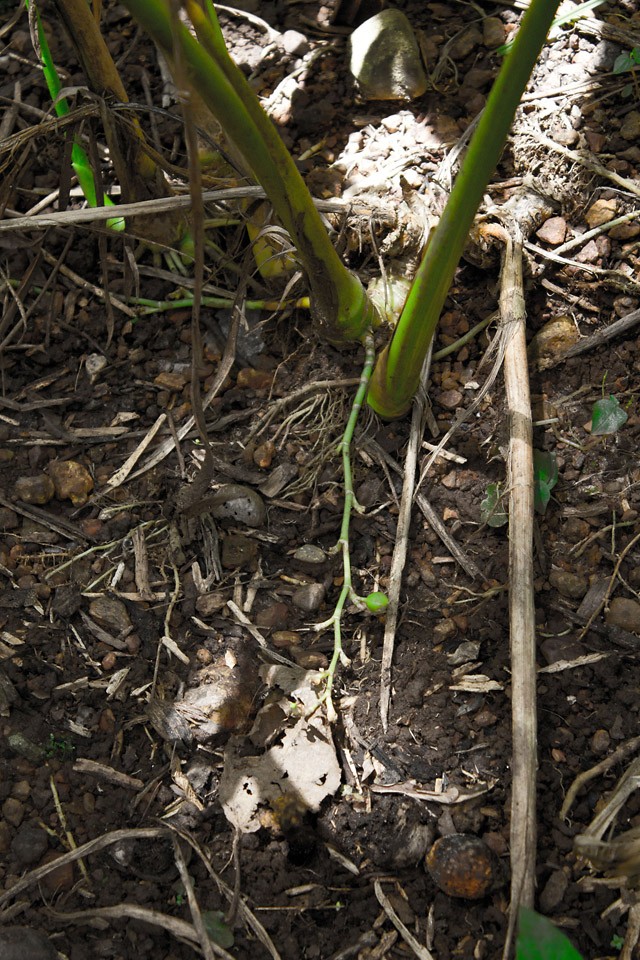 piri piri chilies – the most hot and tiniest of all the green chilies. this chili grows about 1 cm in size.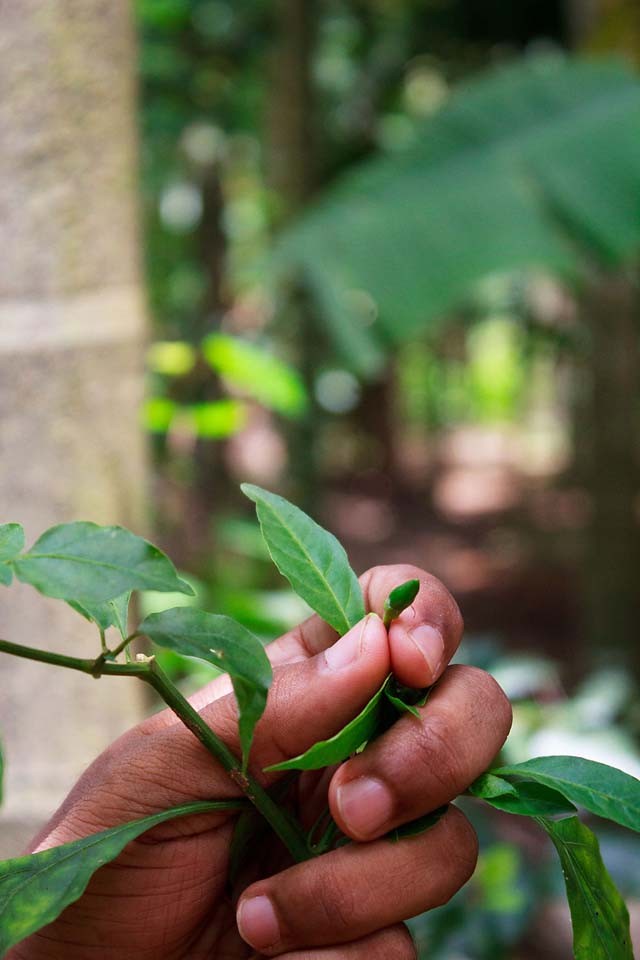 vanilla vines growing on other trees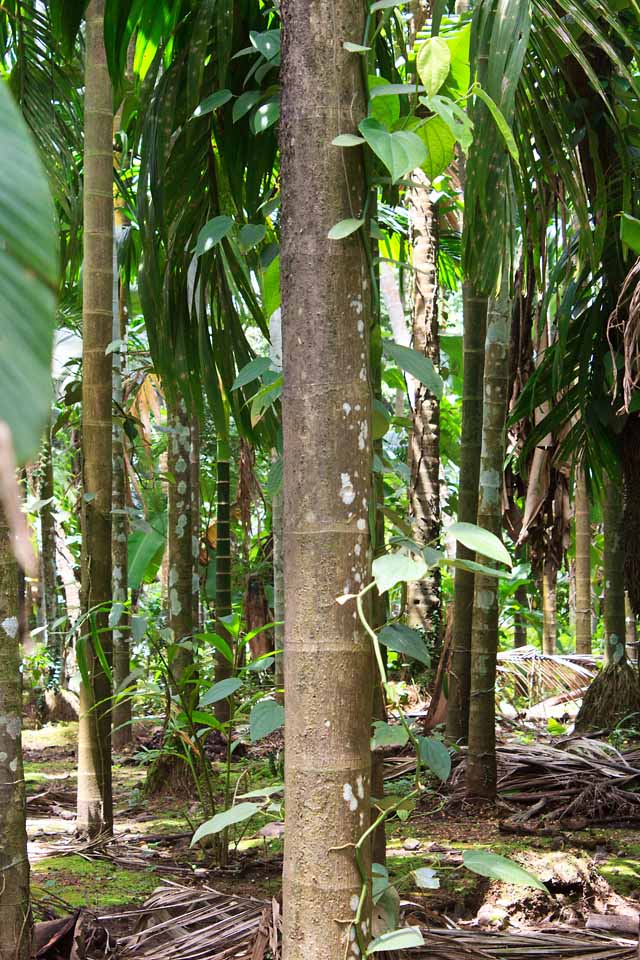 clove leaf & clove tree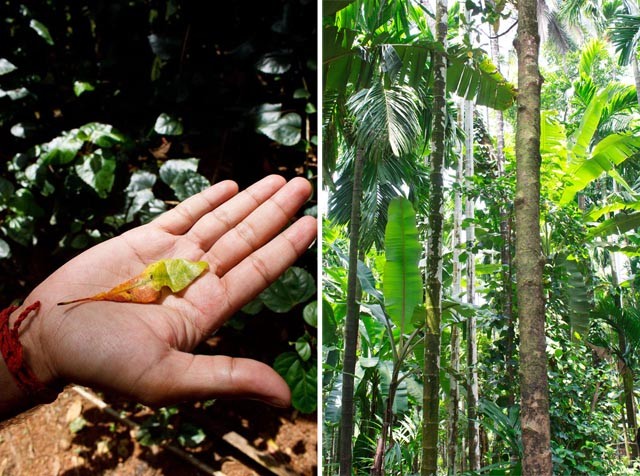 chocolate anyone – cacao or cocoa pods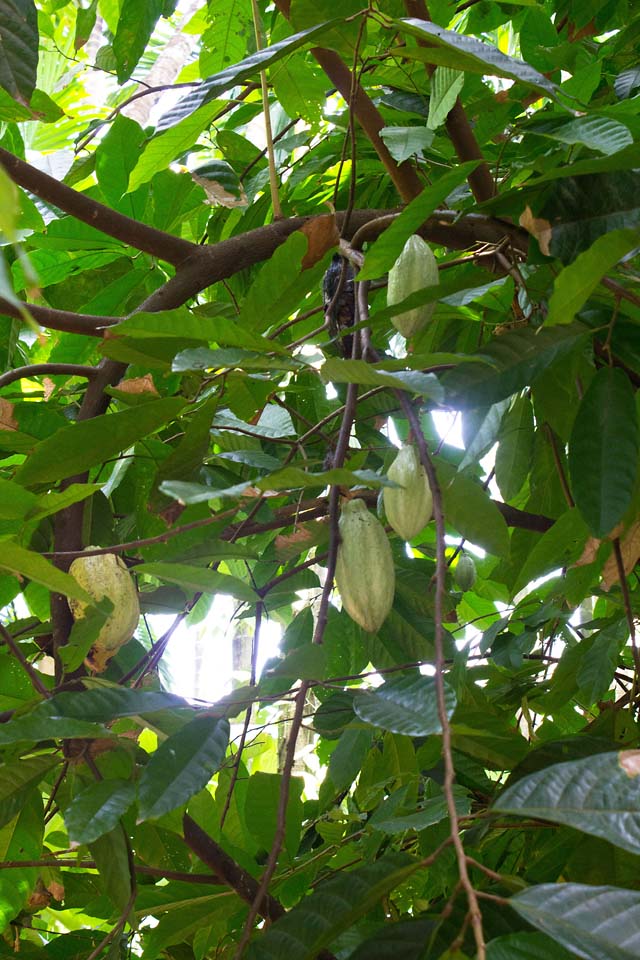 all spice and all spice plant. the guide told us that all spice has all the aroma and flavors of the essential spices we use in making garam masala (i don't know which are these spices). at the farm they sell garam masala made exclusively with all spice and red chilies. i did open the garam masala powder packet and it was wow. i even added it to the colocasia stem sabzi i made today.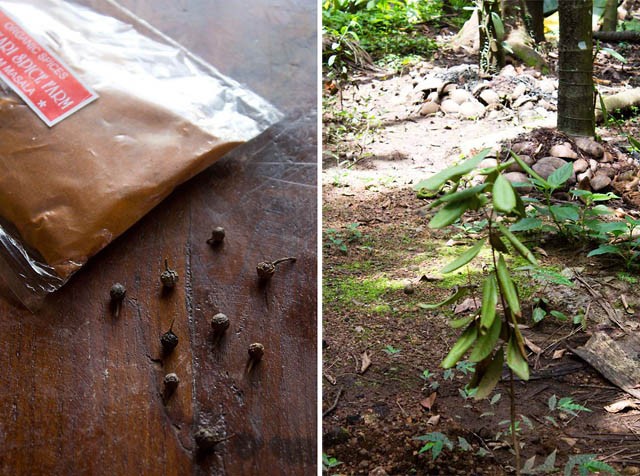 after the visit everyone is given a light bath with ayurvedic herbal water. the water is poured from a coconut shell ladle at a point on the spine on the neck. it really relaxes you along with selling a chill & shiver down your spine. me getting the chills below.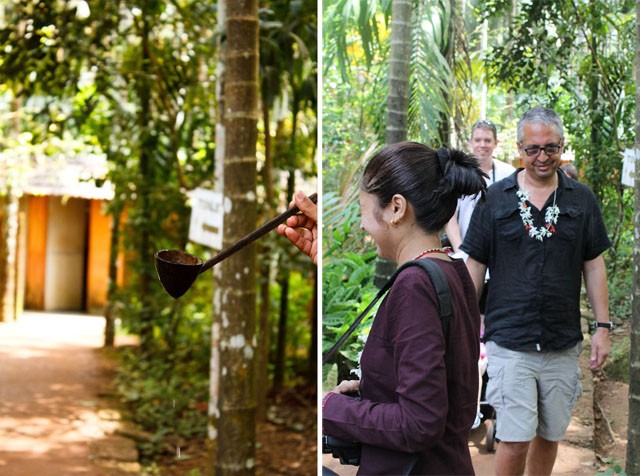 then comes the part which you should try. they serve small quantities of cashew feni and you are supposed to have this before you have your lunch. the cashew feni is soooooo strong…
the guide suggested us to drink it like tequila in one shot. below are empty glasses after the feni shots 🙂
after drinking it your tongue, throat and stomach will all start dancing 😉 a hot tingling sensation is felt on the tongue, throat and stomach. it also aids in digestion and is good for reducing colds.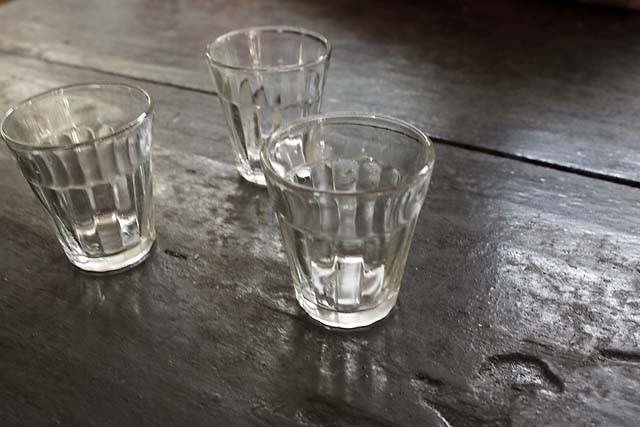 the lunch has both options of vegetarian and non vegetarian buffet. the food was very good.
in clockwise direction from left – pav (bread), sweet saffron rice, steamed goan rice with dal, vatana usal (white peas curry with coconut), cabbage upkari and kokum curry served with papads made from piri piri chilies and mango pickle.
the kokum curry was really good and spicy.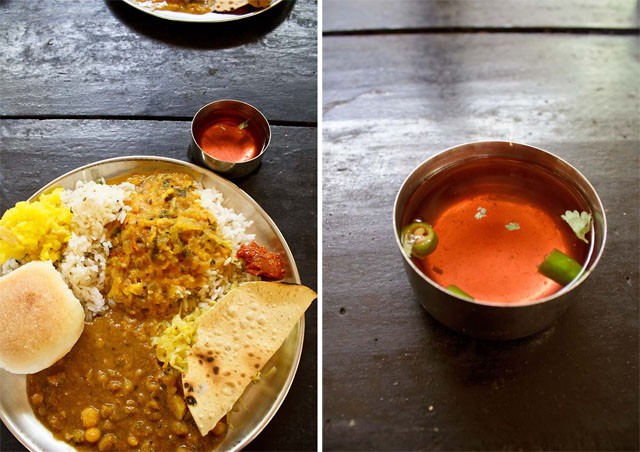 the restaurant where you can peacefully have your lunch.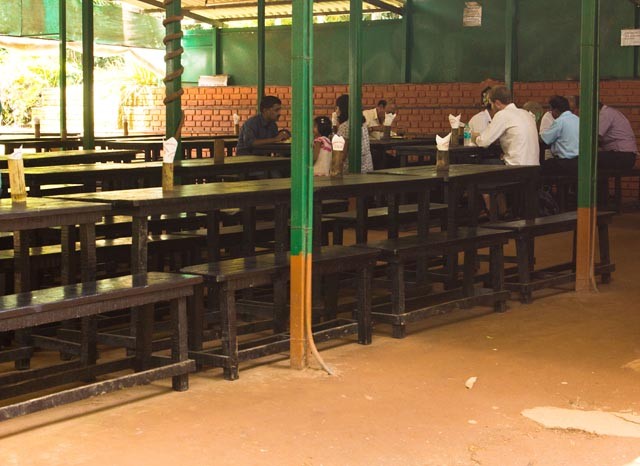 they also have organic spice & spices powders on sale. i liked these baskets so much. i asked them if i can purchase these and they replied no.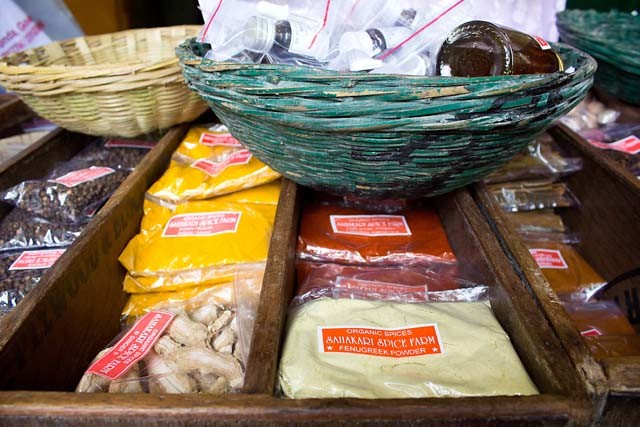 plus organic honey, ayurvedic and herbal oils & medicines also on sale.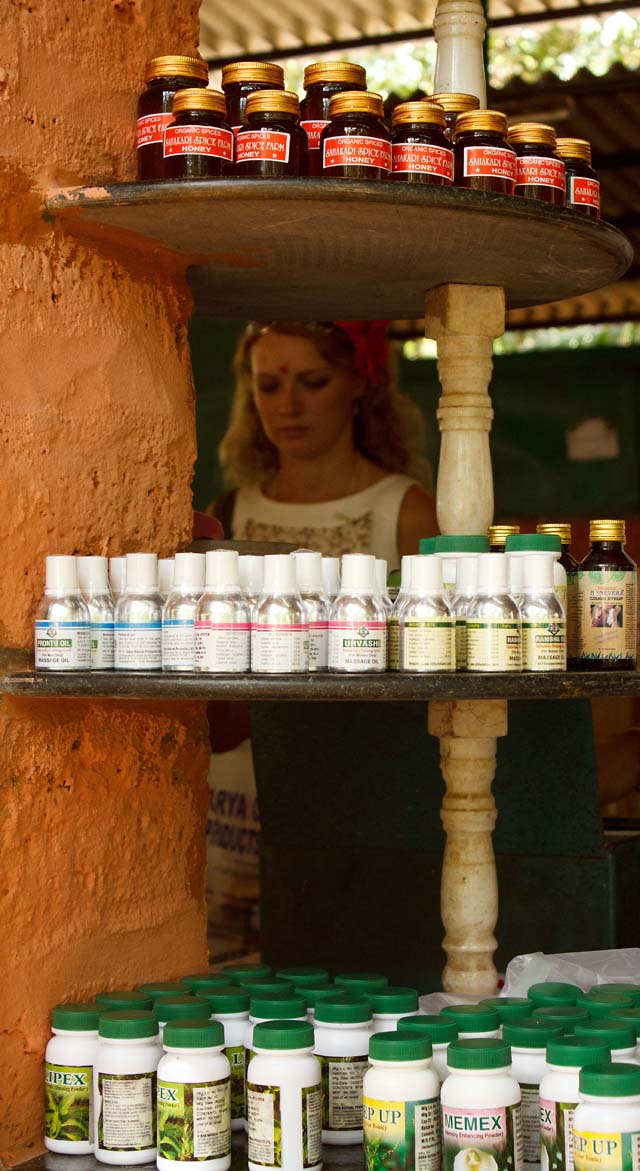 a food blogger would end up buying many things 😉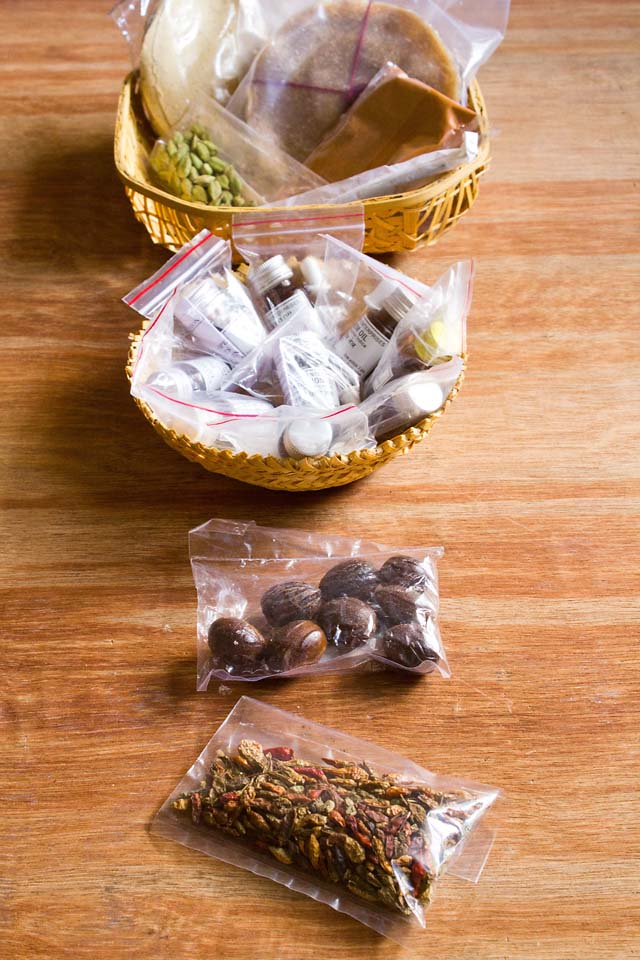 one important spice which they did not have was saffron. saffron only grows in the colder temperatures of jammu-kashmir and himachal pradesh. they cannot grow in the tropical climate like that of goa.
so the visit was overall good and i did enjoy except for the one pet peeve i have mentioned above. hope you guys had a nice virtual tour of the spice farm with me.