ashtavinayaka temples yatra: 'ashta' means eight and 'vinakaya' is another name for lord ganesha. ashtavinayaka is a group of 8 ganesha temples around pune. devotees visit these 8 ganesha temple in a sequence and then the journey is considered complete after visiting the first temple (moreshwar) in the end. many tours and packages are there to visit this popular religious destination. normally it takes two days to visit all 8 temples (plus the first temple) to complete the spiritual journey.
lord ganesha is one of the most popular god in maharashtra and ganesh chaturthi is celebrated with lot of devotion. so around ganesh chaturthi many people visit these 8 shrines. if you are a devotee of lord ganesh then you must do ashtavinayaka yatra or visit all these temples at least once in your life.
apart from ashtavinayaka temples, there are many more popular ganesha temples in maharashtra like ganpatiphule in ratnagiri, siddhi vinayak in mumbai, mahaganpati in wai and dagdusheth halwai ganapati temple in pune. so you can imagine how much ganesha is revered in maharashtra.
lord ganesha is one god who gets pleased easily and who is quick to shower his blessings. ganesha once pleased can remove all obstacles from your life. always worship ganesha before doing anything auspicious. devotion to ganesha can bring wisdom, prosperity, knowledge of arts and also possibility of attaining of moksha.
i pray to lord ganesha to guide us for doing this virtual ashtavinayaka yatra. this wikipedia article was very useful in writing this post.
starting with ashtavinayaka temple yatra:
according to shastra, the order of journey of temple is this:
first you have to visit moreshwar temple of moregaon and then proceed to siddhivinayak temple, ballaleshwar temple, varadavinayak temple, chintamani temple, girijatmaj temple, vighnahar temple, mahaganapati temple and then end the journey by visiting the moreshwar temple again.
but few people think that the order of temples does not matter. e.g. some people visit chintamani temple 2nd instead of 5th as it makes the travel easier. no matter how you decide to do your yatra. do it reverentially and remember ganesha through out the journey. don't read newspaper or watch television in your hotel rooms. once you have decided to do ashtavinayaka yatra then devote your body, mind and soul to ganesha.
which means only play lord ganesha songs in your car or bus. also try to avoid eating non-veg food or alcohol. if possible then you can fast or avoid eating onions and garlic. doing fasting or avoiding onions-garlic could be very strict for most people.
most important aspect during this yatra is to remember lord ganesha from the bottom of your heart. so that you can invoke ganesha's energy and get his blessings. that could be reason many people don't visit any other temple during this yatra. so that their mind is totally focused on lord ganesha.
1. moreshwar temple – moregaon, pune district.
this is the most popular ashtavinayaka temple and the first temple to be visited in this yatra. it is around 55 km from pune. the word moregaon means the village of peacocks. once upon a time there used to be many peacocks in this village and thus the village was named as moregaon.
another legend for the name moreshwar is to indicating the lord ganesha vahana/vehicle peacock which means "mayur" in sanskrit. normally musak raj (mouse) is ganesha temple but in some stories or statues peacock is also shown as the vahana of ganesha.

2. siddhivinayak temple – siddhatek, ahmednagar district.
this temple is situated off the pune-solapur highway about 48 km from the town of srigonda in ahmadnagar district. the temple is situated next to bhima river. the present temple was built in the late 1700s by indore queen ahilyabai holkar. she has build and renovated many temples of india. if you study her life or watch the marathi movie made on her then you will realize the great work she has done to preserve indian temples and also make the piligrimage easier for devotees by building numerous dharmshalas.

3. ballaleshwar temple – pali, raigad district.
the temple is located in the pali town, off the mumbai-pune highway. ganesha is believed to have saved his boy-devotee named ballala. the favorite food of lord ganesha is modaks  (specially steamed or ukadiche modaks) or laddo (specially coconut ladoo). so in most ganesha temples modaks are given as prasad and you can buy them from the ashtavinyaka temple complex itself. but in this temple instead of modak, besan ladoo is given as prasad.
4. varadavinayak temple – mahad, near khopoli, raigad district. in this temple devotees can enter the garbagriha and pay their homage and respects to the idol personally.
the temple is located three kilometers off the pune-mumbai highway near khopoli (80 km from pune) and is thus closest to mumbai city.
so if you plan to take a halt in lonavala then you can easily visit ballaleshwar and varadavinayak temple.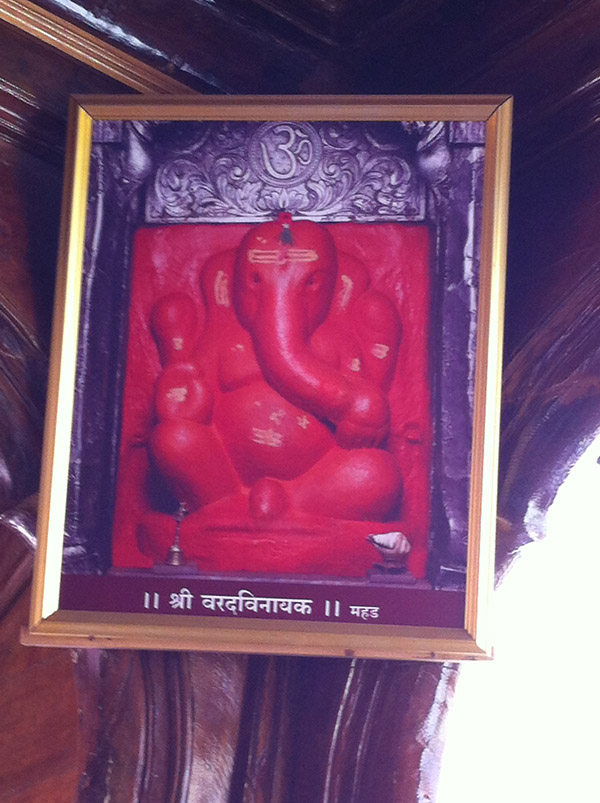 5. chintamani temple – theur, pune district. it is around 25 km from pune.
its a very peaceful and transqil temple. if you want to remove worries from your mind then pray to lord ganesha in this temple. you can read this post on chintamani temple.
6. girijatmaj temple – lenyadri, pune district. there are 30 rock cut buddhist caves. the ganesha temple is in the cave 7. these caves were build around 1st and 3rd centurd AD and must have been build by buddhist monks for meditation. a silent place to find the stillness within.
the temple is situated 12 km from narayangaon, which is about 94 km from pune on the pune-nashik highway.
7. vighnahar temple – ozar, pune district. as per legend, ganesha defeated the demon vignasura, the demon of obstacles. so obstacles won't be there in the place/house where lord ganesha is worshipped.
this temple is located just off the pune-nashik highway, in ozhar town and on the banks of river kukadi. the temple is enclosed on all sides by high stone walls, and its pinnacle is made of gold.
although as per sequence, this should be the 7th temple in your ashtavinyaka yatra but many devotees visit it as 5h spot because of ease in travel order.
so if you are planning any trip to nashik from pune then you can easily visit girijatmaj temple and vighnahar temple.
8. mahaganapati temple – ranjangaon, pune district. it is around 51 km from pune.
this temple is right on the highway. when i am coming back from shirdi sai baba temple to pune then i always visit this temple. this temple is facing east and has huge & beautiful entrance gate. two large elephant statues greets the devotees in the temple gate.
ashtavinayaka yatra facts:
1. the ganesha murtis/statues in these temples are called swayambhu, or the self-existent in sanskrit. this is to indicate that no human created these statues and they were found completely formed by nature. many indian temples have swayambhu statues like maa shera wali temple in jammu and mahakaleshwar jyotirlinga in ujjain.
2. it takes around 2-3 days to visit all the ashtavinayaka temples. many tour operators have special ashtavinayaka packages also. like bus trip, car trip, only women group and so on. these packages usually includes stay, travel and food.
3. the temple are very crowded during ganesh jayanti and ganesh chaturthi festival. so if you are short of time during festival season then you can buy online pass from temple websites to skip the long queue.
4. don't eat non-vegetarian food or drink alcohol while doing this yatra. be satvic in your diet, be pure in your mind and always take bath before starting the day. always wear fresh clothes. remember that ganesha is a very satwic god.