mandhardevi kalubai temple – this is again one of those charged temple which is quite popular among maharashtrian people. kaleshwari devi is fondly called as kalubai by the devotees.
visiting kalubai temple: the temple lies in satara district, maharashtra. about 20 km from the satara distict. the temple is situated on a hill 4,650 feet above sea level and overlooks the picturesque purandar fort. many devi temples are situated at hill tops. i don't know the reason behind this. but it do make sure that only sincere devotees will make the effort to have darshan of maa.
many popular temples of maa like vaishno devi temple in jammu, saptashrungi temple in nashik and chaturshringi temple in pune are all in hills.
when i visited the temple. it was foggy and drizzling. so i could not take much photographs. so i don't have the much pictures to show the beautiful surrounding around the temple.
when you visit kalubai temple then you not only get maa grace, but you also get to breathe pure air and also see lush green surrounding. the heart which gets closed in city life becomes open and start vibrating with love and positivity.
the popular mahaganapati ganesha temple is also very close by in wai area. other spiritual areas close by are saint ramdas samadhi in satara and panchganga shiva temple in mahabaleshwar.
kalubai jatra pilgrimage – there is a annual kalubai jatra pilgrimage over a ten-day period every january. in this yatra,the main event is a 24-hour-long festival on full moon day that also includes animal sacrifices to the demons of goddess whom she killed. the goddess kalubai is offered nivad of puran poli (a sweet) and curd rice. the religious event usually draws more than 300,000 devotees.
kalubai temple photos:
these are steps leading to the temple. the steps are small so elderly people or people having knee problem can also climb it easily. i think there will be around 70-100 steps.
the small hanuman mandir at the beginning of steps. i have seen hanuman idols in many devi temples. hanuman ji protects many devi temples.
in the steps, there are many shops selling pooja thali. you can see in the above photo, the pooja thali with saree, chunri, flowers and other stuff.
you can see the kalubai photo in the above pic. the photography is not allowed inside the temple. i asked the priest for a photograph for the website but he refused.
kalubai temple complex. its not a very large temple but there is elaborate arrangement for queue. because lot of devotees visit during kalubai jatra pilgrimage.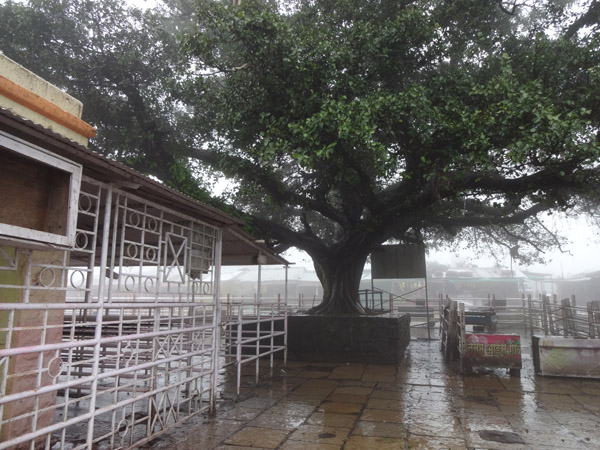 big tree in the temple complex. there were many monkeys jumping around this tree branches.
as the priest didn't gave me the permission to take the photograph inside the temple. so i tried to take the photo from outside. but many devotees were visiting the temple. so i gave it up.
photography is nowadays banned in most temples as people unnecessary keep on clicking photographs and also make videos. sometime this is just for fun or as a memory rather than for devotional purpose. it is good that photography is banned because people should be devotional in the temple and should not spoil the devotional energy or space for other devotees.