ma chaturshringi temple is devoted to goddess chaturshringi, also known as goddess ambareshwari, mahakalee, mahalakshmee, mahasaraswatee. it is one of the most popular temple in pune along with shreemant dagdusheth halwai temple. the temple is probably 250-300 years old.
goddess chaturshringi and lord ganpati are considered as patron deity of pune. the temple is situated on the slope of a hill on senapati bapat road in aundh, pune. the temple is maintained by the chaturshringi devasthan trust and is very neat and clean. full of silence, peace and spiritual vibrations. check the temple website here.
since the temple is located at a height in the hill, so you get to see a good city view. if you are visiting pune then this should be one of the must visit temple during your stay.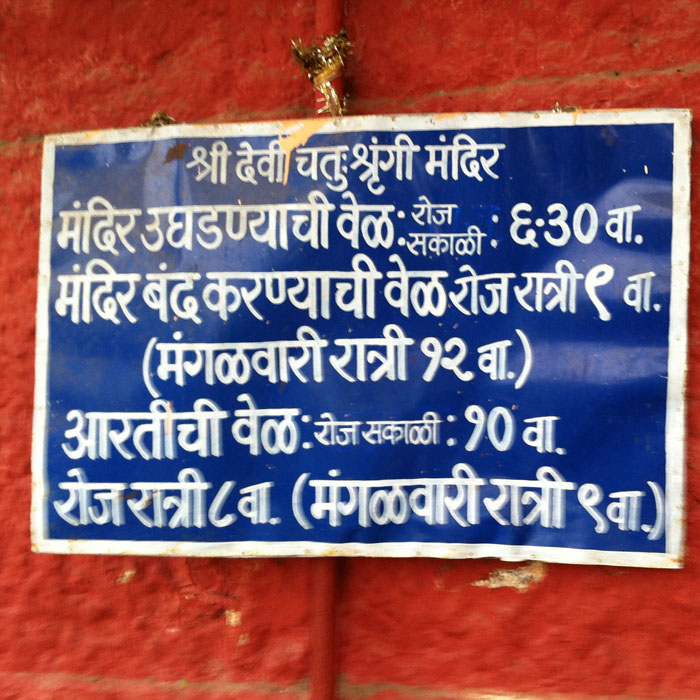 the temple is open from 6:30 am to 9 pm. on tuesday it closes at 12 pm. since tuesday and friday are days of goddess. more devotees visit the temple during tuesday, friday and on navratri.
major festival celebrated in the temple is navratri. during navratri a big fair is held here and is visited by thousands of people. it can take 1-2.5 hours for darshan during navratri. diwali, holi, chaitra padwa, holi, ganesha chaturthi is also celebrated in the temple.
there are also 2-3 big banyan trees also in the temple complex. during 'vat purnima', many women visit the temple to worship the banyan tree. many people bring their new vehicle also to the temple for pooja.
photos of chaturshringi temple pune:
you will have to climb 100 steps to reach the goddess chaturshringi shrine. for elders it could be little difficult. but for youngsters it a good exercise for lungs.
the temple compound is very big and there is space for vehicle parking inside the temple premises. if you don't get the parking then you can park your vehicle in the lane opposite the temple and walk it off to the temple.
the temple complex also has small temples devoted to ma durga and lord ganesha. as you climb the stairs, first you will come across lord ganesha temple. in above photo the lord ganesha temple is on the left hand side.
lord ganesha idol in the temple. when you do parikarma of lord ganesha temple then you will see idols of ashtavinayaka in the temple wall.
stairs leading to ma chaturshringi shrine.
since photography is not allowed inside the temple so i could not take photos of chaturshringi ma statue.  but you can the ma statue in the above photo. inside the shrine there are many statues of other goddess also like sheetla mata. there are many photos of gods and saints inside the shrine.
do the parikarma of the temple after praying to ma chaturshringi.