shikhar shingnapur shiva temple is located in shingnapur hills, near satara district of maharashtra. its an old temple devoted to lord shiva. when i heard about shikhar shingnapur for first time then i thought its related with another famous temple of maharashtra that is shani shingnapur, which is devoted to lord sani dev.
since this temple is located at top (shikhar) of shingnapur hills, thats why it must be called shikhar shingnapur. two more shiva temples which should be visited by lord shiva devotees and are very near to this temple are amruteshwar temple and guptlinga temple (about 3 km away)
the temple is connected with great king shiva ji maharaj family. shiva ji maharaj used to visit this temple often.
no VIP treatment is given to anybody in this temple. everybody is treated equally.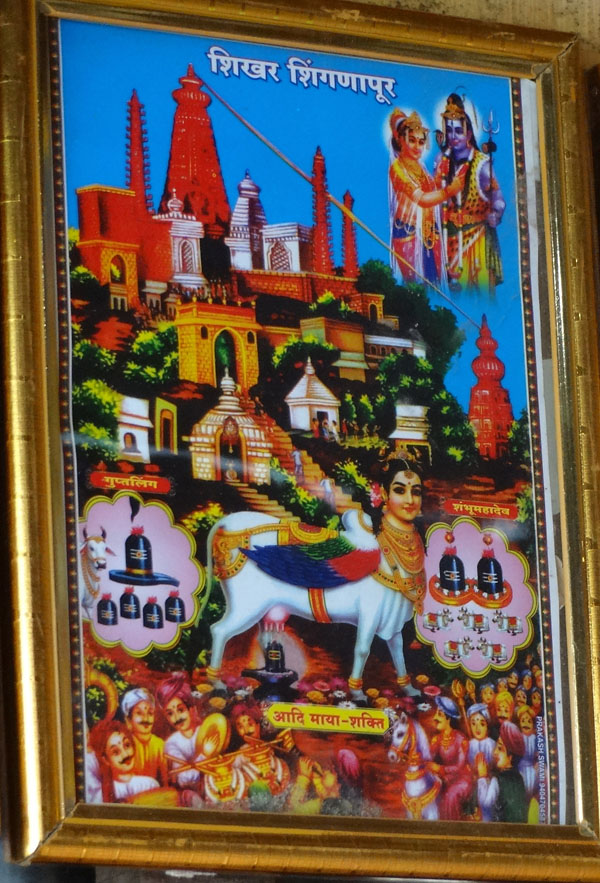 this photo i clicked outside the temple. many facts about this temple are shown in this above photo.
1. there are many shivlingas (around 8) in the temple. thats why this temple is also known as dakshin kailash.
2. in the inner sanctum, i saw two shivling. in this temple you will see 2 shivling and 5 nandi statues as shown in above photo also.
3. in the month of march-april, great fair or "jatra" is held here. during this time, many devotees and kawad visit the temple via mungi ghaat. kawad give bath to shivling with the water they brought in their kavadis. during mahashivratri festival many devotees visit this temple.
4. as per legend, lord shiva and parvati ma got married here.
virtual tour of shikhar shingnapur shiva temple:
shikhar shingnapur temple is situated on the top of a hill. the temple is build from stone but is now pained with color. a concrete road goes right to the temple main gate. when i visited the temple, i was positively shocked to see a very well maintained road going to temple. local people also visit this temple from another route by climbing steps.
if you are visiting this place from village via climbing steps. then on the way you will get to see pushkartirth tank (build by shiva ji maharaj) and ganesh temple.
many deities and gods are beautifully carved in the temple structure. many light towers are there in the temple.
shikhar shingnapur temple courtyard (left side of temple). you can see the temple walls are build with black stone.
right side of temple courtyard.
since shikhar shingnapur temple is located at the very top of hill. so you get to see an excellent view of country side. during monsoon it will be very beautiful.
another view from the temple top.
har har mahadev.
how to reach shikhar shingnapur temple:
its 153 km from pune, 41 km from phaltan and 84 km from pandharpur, one of the famous religious place of maharashtra.
approximate map location with nearby religious places marked:
don't forget to visit amruteshwar temple and guptlinga temple which are near by located to shikhar shingnapur temple.