shani shingnapur temple is devoted to lord shani dev or saturn. shani dev is son of lord surya (sun) and disciple of lord shiva.
lord shiva assigned the task of giving justice in the world to shani dev. he is one of the most fearsome god and no one is spared from this justice. not even god or even his guru lord shiva. thats the reason many people are scared of shani dev. in vedic astrology, the sadhe sati or 7.5 years of saturn time is very much dreaded.
there is too much fear about saturn which should not be the case. because many people make progress during saturn time period. it all depends upon your karmas. if you do good karmas then saturn will reward you accordingly and you don't need to be scared of sanidev. instead of being scared of shani dev, be scared of doing bad karmas.
so while visiting shani shingnapur, don't be scared. instead have devotional feeling towards the sanidev.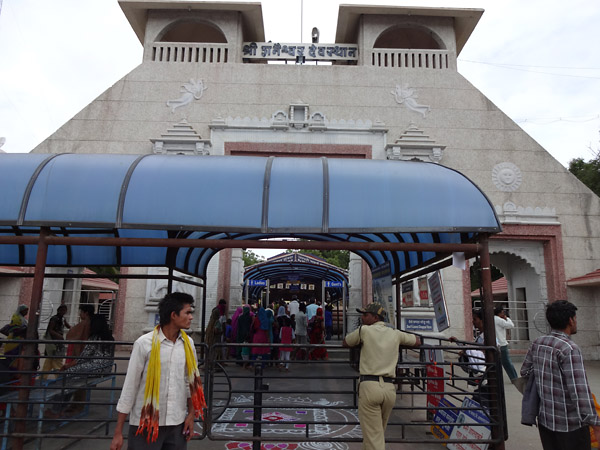 the shani shingnapur shrine has five and a half feet high black rock installed on an open-air platform, which symbolizes the god shani.
the small red color statue in front of shani maharaj idol is of lord hanuman.
this black rock came during a heavy rainfall and was found by villagers. now the temple authorities are renovating the temple. they are making a water channel as an extension of the temple. because shani dev idol came flowing in water.
devotees offer the mustard oil to shani dev and by pipes this mustard oil is continuously poured over this black rock symbolizing shani dev. one of the way to please shani dev is to donate mustard oil to poor people on saturday which is his day.
why we offer mustard oil to shani dev – the legend says that when shani dev was injured after battle with lord hanuman. then he applied mustard oil on his injuries which give him relief from pain. thats why shani dev gets pleased when you offer mustard oil to him. vedic astrologers suggest to never sell mustard oil on saturday and instead donate it to poor people.
there are many shops selling mustard oil, coconut and pooja thali outside the temple.
in last few years this place is getting popular and currently the temple is bring expanded. as per the temple legend, it rained for many days and all the water bodies get flooded. during these floods, shani statue came flowing in water. later on, shani dev instructed someone in dream about installing the statue. so the temple authority is making water channel pathway in accordance with the legend. donation is needed for this work. you can donate online also.
peak time – saturn is the day of sani dev. so maximum people visit on this day. if no moon day, falls on saturn there is maximum crowd.
visiting shani shingnapur:
1. its about 35 kilometres from ahmadnagar city.
2. about 160 km from pune. on the way you can also visit maha ganapati temple (one of the asthavinayak temple).
3. 84 km from aurangabad. there is a jyotirilinga shiva temple there.
4. its just 1-2 hr drive from shirdi baba temple.
notes:
1. 5-10 km from shani shingnapur, there is a temple of renuka ma, which many local people visit. its a very good temple and worth visiting.
2. few years back you have to take bath and visit the temple with wet saffron clothes. but now that is not needed.
3. photography is not allowed inside the temple. you can switch off the mobile and camera while entering inside the temple.
4. there is place for keeping your shoes/sleepers as you enter inside the temple.
5. you can buy prasad 'coconut barfi' for 10 INR per packet from the temple premises.