marleshwar shiva temple – its a popular shiva temple situated in a cave in maralgoan village. this cave temple must have been named after the village which lies in sangameshwar, ratnagiri district of maharashtra.
lord shiva is a yogi who likes to stay in high mountains or in samshan ghat or in hidden caves or any secluded place ideal for meditation. he is the first yogi of the world. lord shiva loves to stay in secluded places in samadhi state.
as per legend – the original shiva temple was in muradpur whose chieftian was murad khan. when he and his army started harassing local people and creating disturbance in the area, then lord shiva moved his place to marleshwar. as per another story, locals moved the shivlinga to this place so that it is safe from attackers.
no matter how much lord shiva loves to be in isolation. he devotees also loves to pay visit to him and take his blessings. lord shiva can not hide himself from his devotees. thats why lot of devotees visit this shiva cave temple in marleshwar. as well as undergo difficult journeys to visit kaliash mansarovar or do amarnath yatra.
the present shiva cave temple was found by a group of hunters. they found many snakes and cobras coiled around the shivling. it was a makar sankranti. so on this day a big festival happen here. villagers celebrate the wedding of lord marleshwar to girijadevi. on mahashivratri also a big crowd of devotee visit this holy place. because of its popularity, this place is also known as trimbakeshwar (jyotirlinga) of the konkan region.
how to reach marleshwar temple:
you can reach either from ratnagiri or from sangmeshwar. given an option, i would start the journey from ratnagiri after visiting ganpatipule temple. on the way, you can visit ganpati gule temple and then visit marleshwar temple and continue the journey to mahalaxmi temple in kolhapur.
distance from marleshwar:
devrukh is 20 km away
sangmeshwar is 40 km away
ratnagiri is 62 km away (visit ganpati gule, ganpatipule temple)
chiplun is 90 km away (visit lord parshurama temple)
kolhapur is 94 km away (visit mahalaxmi temple, narsinhwadi datta mandir and jyotiba temple here)
pune is 265 km away (pune has many religious places. on the way, with little diversions you can check jejuri khandoba, moreshwar and mahaganpati of wai)
mumbai is 330 km away.
virtual tour of marleshwar shiva temple :
marleshwar shiva temple maha dwar. there is enough parking space for 30-40 cars to park here. many small food joints or dhabas are located at this place. but if you are looking for a good or neat and clean restaurant then better bring the food from home.
you have to climb some 500 + (approx 530) steps to reach the temple top. its a good excercise for lungs considering the lush green mountains which surround this divine place. take the name of lord shiva with each step you climb and your journey will become easier and more pious.
its a beautiful climb and nature will definitely give you some surprises to look at. while going up, you will get to see few water channels coming down from the mountain top during monsoons. the water is crystal clear. in fact, monsoon is the best time to visit this place… in case you are interested to see nature at its best plus many waterfalls coming from sahyadri mountain range.
view of the lush green mountain top.
close up view of mountain waiting for you. don't forget to bring your cameras.
after climbing 530 steps you have now reached the marleshwar shiva temple. this is the small entrance to the cave where lord shiva is residing in form of shivling. there is a very small entry to the temple, so you have to bend down to enter inside the cave. lord shiva presence is easily felt in this area.
small ganesh temple just outside the entrance of temple. always pray to lord ganesha before doing any auspicious work or pooja.
now you are seeing the photo of shiva temple inside the cave. as i entered inside the cave, i could not see anything. total darkness for me…. it will take some seconds for your eyes to adjust and see the light coming from burning diyas. it is a big cave. easily 40-50 people can pray to lord shiva here. you don't need to bend inside the cave and can stand straight.
one pujari was doing ritual and pooja inside the temple. there are 2 places where you can pray inside the cave temple.
shivling inside the cave temple.
har har mahadev.
it is said that many snakes resides in the cavities of this cave. sometimes you can see cobra also. but till now no snake bite has happened.
when i was inside the cave, few people had already spotted one snake inside the cave. the above photo shows that snake. no need to disturb snakes, if you find one as there are loved by lord shiva. never kill any snake. instead call a snake catcher. they are important part of food chain and eats many rodents which destroys crops and food grains.
as you come out of shiva cave temple. you will get to see nature at its best. after praying to lord shiva, most people come to the temple courtyard and a photo session starts. everybody is busy clicking photographs from the mobile or camera. many monkeys can be seen in the courtyard.
for photographers. this place is excellent. i feel, here temple authorities must put notice saying that "you are here to worship lord shiva and not to click photographs". they can also consider playing music of om namah shivay or any other shiv dhun.
dhareshwar waterfall is close to marleshwar shiva temple. so its a very beautiful location. during summers, people are allowed to take bath in this waterfall but in monsoons the entry to waterfalls is blocked.
another view of the dhareshwar waterfall in marleshwar. i don't know which temple is seen in above photo.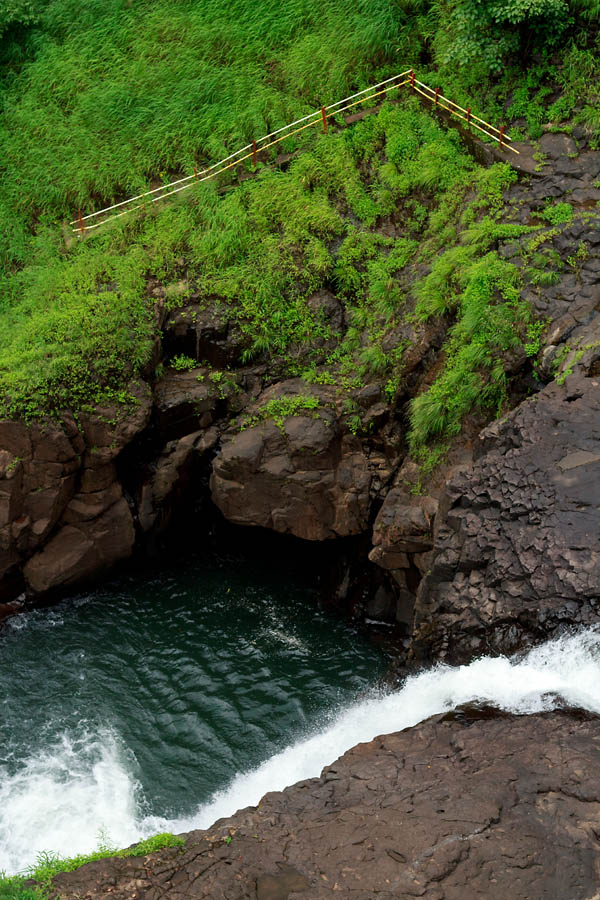 when you look down at the valley, you see water falling from dhareshwar waterfall.
view of lush green mountains surrounding shiva temple.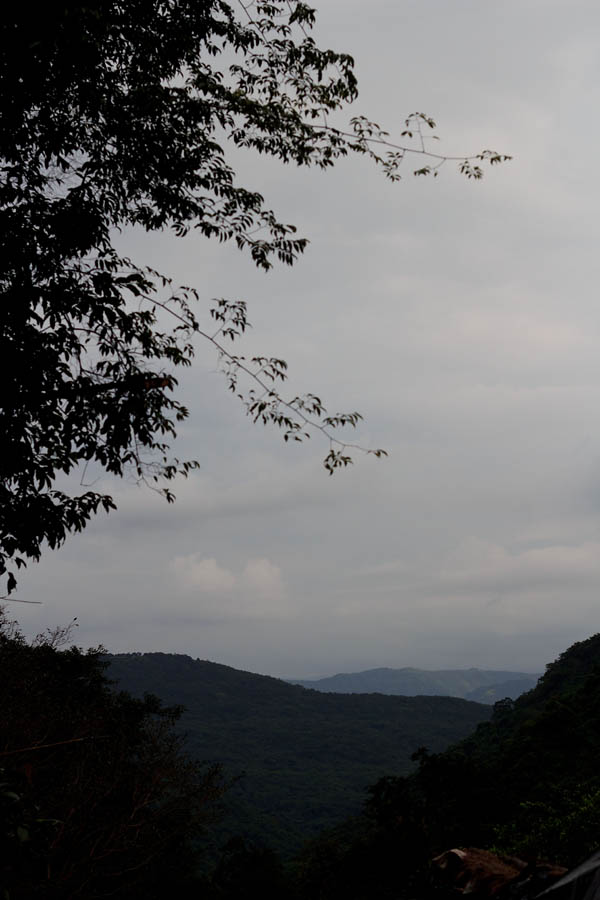 another view of beautiful lush green mountains and clear sky. no pollution of any kind.
coming back from the temple visit.
if you are tired then take a stop at one of many stalls you will find on the way back. we had mango juice here. it was good, since this place is not very far from ratnagiri famous for its mangoes.