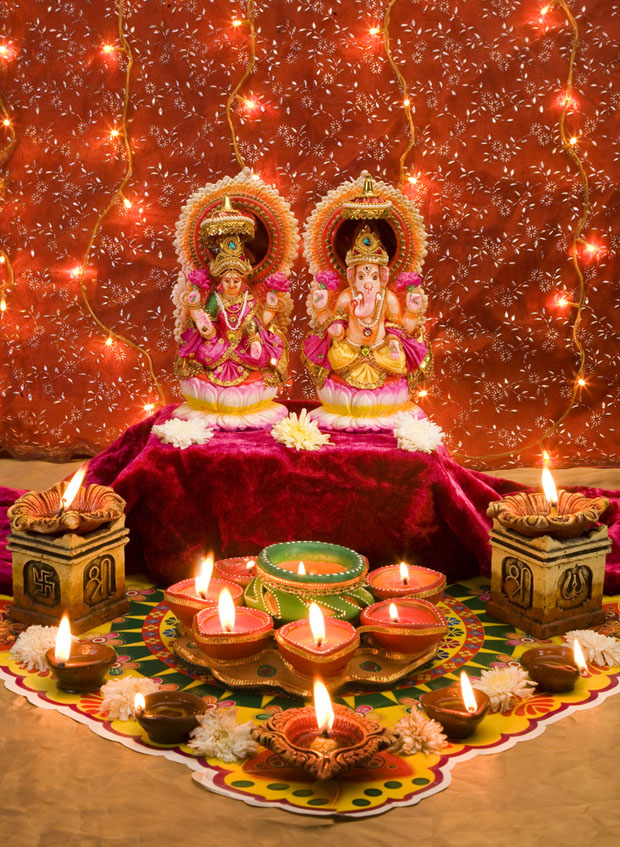 diwali or deepavali is the one of the most popular hindu festival. deepavali means row of lights. diwali is celebrated to mark the arrival of lord rama (incarnation of lord vishnu) and ma sita (incarnation of goddess lakshmi) back to their home town after an exile period of 14 years. diwali is also the time when you can invoke goddess lakshmi and invite her to your home. goddess lakshmi brings wealth, prosperity and money in your life.
message from diwali – remove the darkness all around by burning the lamp of wisdom inside you. remove negativity from your home and from your heart. bring positivity, love, wisdom and consciousness in your life. diwali is one of the darkest night in the year. but in india, it is one of the brightest night as whole india burns diyas and candles. diwali of amritsar (golden temple), bombay and delhi is very famous.
as a kid, i was more interested in burning the fire crackers than attending the pooja. diwali pooja was like a break from crackers and the festivity going around in the street. but parents used to bribe saying that its just a matter of 1 hour and then you can celebrate diwali and burn crackers as long as you want. another good part of the pooja was that you get some money which is kept in kulhars (earten pots) with puffed rice and sugar candy. at that time, eating the sugar candy was a joy but now after visiting dentist few times, i cannot afford to eat those sugar candies !!!
lakshmi pooja vidhi varies from family to family or from region to region. so there is no set rule. but the main thing is that it should be done with devotion and faith. lord ganesha has to be worshiped before worshiping any other god or doing any pooja. in lakshmi ma worship calm, peaceful and clean environment is very important. so maintain peaceful and satvic energies in the home.
preparation for lakshmi pooja on diwali:
1. clean your whole house very well. clean the cobwebs, dust the windows and furniture well. discard anything which you are not going to use. let go of any rubbish accumulated in the house. this will clean the blocked energy and you will make space and create conducive energy in your home for goddess lakshmi to arrive. she likes order and cleanness in the house. in some communities the broom is also worshiped.
2. many people do white wash of their house just before diwali.
3. you can sprinkle some ganges water (or gomutra) in your house as well.
4. clean the space where you are going to do the lakshmi pooja. if you have a small temple space in your house and you want to perform the pooja there, then clean the temple space well. clean all the idols with ganges water or with rose water (gulab jal).
5. buy sweets, flowers, coconut, puffed rice and kulhars. you can also buy marigold flowers and bel patra.
6. buy diyas (prefably 21 or 51 in number). also buy one big diya. its best to buy earthen diyas as it will help lot of potters and poor people who make them. their diwali will also be good. you should also buy incense or dhoop.
the earthen diyas can be soaked in water for few hours and then dry them before use. so that they don't absorb too much oil.
8. take bath early in the morning and wear fresh set of clothes. person who will do the main pooja should wear shudh or fresh clothes before the pooja. more than physical cleanliness the mental cleanliness is more important. one should remember goddess lakshmi through out the day. one should not watch cinema or TV and then suddenly come for lakshmi pooja.
9. respect the lakshmi (your wife) of the house. your daughter and daughter in law are also living lakshmi in your home. so on this day don't insult the feminine energy. in some families new clothes are bought for ladies in the house. the money which comes to you should not be spend on wrong things. so respect the money as well your daughter, daughter in law and your wife. goddess lakshmi does not stay long with the person who is lazy, unclean or only respect her for the sake of money.
10. you can also do havan in your home. some people call pandit for doing havan or for diwali pooja as well.
11. some people also make rangooli in front of their house. you can also make sathiya towards the door entrance on both sides.
how to perform lakshmi pooja on diwali:
(make sure all the family members are present. call the children, if they are out or burning crackers.)
1. decide the place where you want to do pooja. keep a small wooden bench or stool (or use any raised platform for pooja).
2. put one fresh piece of cloth. red color cloth would be best but not essential.
3. on the cloth, make a bed of rice. keep a kalash (pot or pitcher made from gold, silver, copper or terracotta) on top of rice. fill three fourth of the kalash with water.
4. put a betel nut (supari), flower (preferably marigold), a clean coin (you can also put silver or gold coins also) and some rice in the kalash.
5. arrange five mango leaves in circular design at the opening or neck of the kalash. these mango leaves should stand out. place a small plate (thali) on the kalash and fill it with rice grains.
6. it is considered auspicious to draw a lotus with turmeric powder (haldi) over the rice grains. use ring finger of right hand for applying tilak or doing any auspicious work. now place the goddess lakshmi idol over the rice grains. (this is done symbolically because goddess lakshmi sits on lotus flower).
also place some coins in front of the idol. in some families silver or gold coins are purchased and used only for pooja. after the pooja the coins are kept back in the locker or safe. you can also put some gold jewelery.
7. place the lord ganesha idol in front of the kalash, on the right side (south west direction). in many north indian families, the kulris (small earthen pots) are filled with kheel (puffed rice), batashas and toys made out candy (khand ke khilone). some currency notes are also kept in the kulris and kept on the platform. these kulris and money is given to the children after the pooja.
8. its customary to worship lord ganesha first in any pooja. ganesha removes all obstacles and it is considered auspicious to worship lord ganesha and goddess lakshmi together. as it brings both wisdom (from lord ganesha) and wealth (from goddess lakshmi). some families also keep pen, ink and books related to their business or occupation in front of lord ganesha idol as it is considered that doing this will bring wisdom and knowledge. business families also do pooja in their shops and offices.
so  apply haldi-kumkum tilak on the forehead of ganesha statue with ring finger. offer some rice grains to the ganesha idol.
9. you can also sprinkle some holy water (preferably ganges) on the pooja items to purify them. burn a mustard oil diya (or lamp). also burn incense or dhoop. offer haldi, kumkum, roli, rice, sandalwood paste, rice grains and flowers to the lakshmi ma (and also to any other idol you have placed in the platform). flowers specially marigold, leaves of bel (wood apple) are considered favorite of goddess lakshmi. also apply tilak to the kalash.
10. close your eyes and take some rice grains in your right hand. remember the goddess lakshmi deeply for some time. you can chant mantras to invoke her. maintain a calm and peaceful environment. you can also chant Om mantra to become more peaceful from inside. on this day you can easily invoke goddess lakshmi, if you remember her deeply from the depth of your heart. after this offer these rice grains to the goddess lakshmi. this is done to invoke the goddess lakshmi.
11. after invoking goddess lakshmi, keep the lakshmi idol in a plate and bathe it with water, panchamrit (mixture of milk, ghee, curd [clarified butter], sugar and honey) and then again with water containing a gold ornament or a pearl. wipe the idol with a soft cloth and then place it back on the kalash.
12. now make offerings to the goddess such as sandal paste, saffron paste, garland of cotton beads, ittar (perfume), turmeric, kumkum, abir and gulal. flowers, such as marigold flowers, and leaves of bel (wood apple tree) are also offered. you can also burn incense stick or dhoop and offer it to the deities. offering of sweets, coconut, fruits, and tambul is made later. puffed rice and batasha (kind of indian sweets) are placed near the idol. puffed rice, batasha, cumin seeds and coriander seeds are poured over the idol.
offer bhog and sweets to all other gods idols kept in the pooja room. only fresh sweets should be offered, which means no one has tasted them before. you can make any sweets (preferably of khoya) at home also.
note: all these pooja items is mostly not present in all homes. so don't worry. do the pooja with the items which you can easily arrange or afford. the most important thing in pooja is the purity of heart and your sincere devotion.
now comes aarti part-.
since lord ganesha is worshiped first, so first do ganesha ji aarti. then do lakshmi ma aarti, then lord vishnu aarti, then do kuber ji aarti (usually in business families kuber ji worshipped. they also worship the tajori or safe/locker where money is kept) and then do ganga ma aarti. the aarti is accompanied by a small bell (ghanti).
in some families, the story related with diwali is also told. for this hold some rice in your right hand and then listen to the story.
after the pooja the fire crackers can be burned. many people have their dinner after the pooja. many families exchange sweets with neighbors after doing pooja.
burning diya or lamp:
after the pooja, burn mustard oil diya and keep it below the tap and a few diyas at the entrance of your home. keep diyas at all corners and rooms of your home so that no place is left in darkness. some people also keep diyas on crossroads (but its not essential). take care while crossing the crossroads as a lot of black magic is done on this day. don't step over any weird item kept on a cross road.
on badi diwali you can burn as many diyas as you can.
keep your house lit on diwali night. as goddess lakshmi likes the house which are well lit. as she can find the path easily in lighted house. some people also keep the doors open (till they are awake in night) for lakshmi ma to come. do not drink alcohol in your bedroom. be satvic and maintain cleanliness.
we hope this diwali brings prosperity and wealth to your home. wishing a happy diwali to all the readers.
references:
1. hindu blog
2. online prasad website
3. 51 hindu festivals & fairs ebook by vyanst
4. the book of hindu festivals and ceremonies by om lata bahadur
5. zeenews article by ritika handoo
This post from the archives, first published in November 2015 has been updated and republished on 24 October 2022.