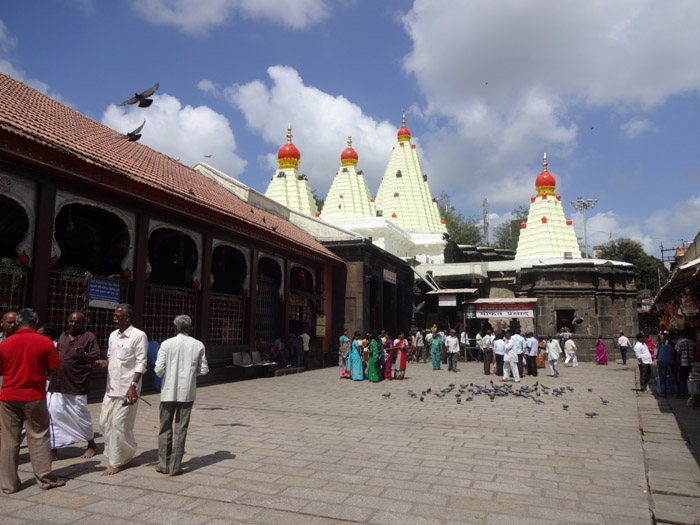 mahalaxmi temple in kolhapur is one of the most loved temple in maharashtra. during navratri festival lakhs of devotees visit the temple to take goddess blessings. this temple is one of those 6 places where you can get salvation or your prayers can be fulfilled. devotees pray to goddess for prosperity, happiness and peace in life.
there are 3 and half shaktipeeth temple in maharashtra and this is one of them. other three shaktipeeth temple in maharashtra are:
1. tulja bhawani ma temple, solapur
2. saptshringi ma temple in nashik
3. renuka ma temple at mahur, nanded.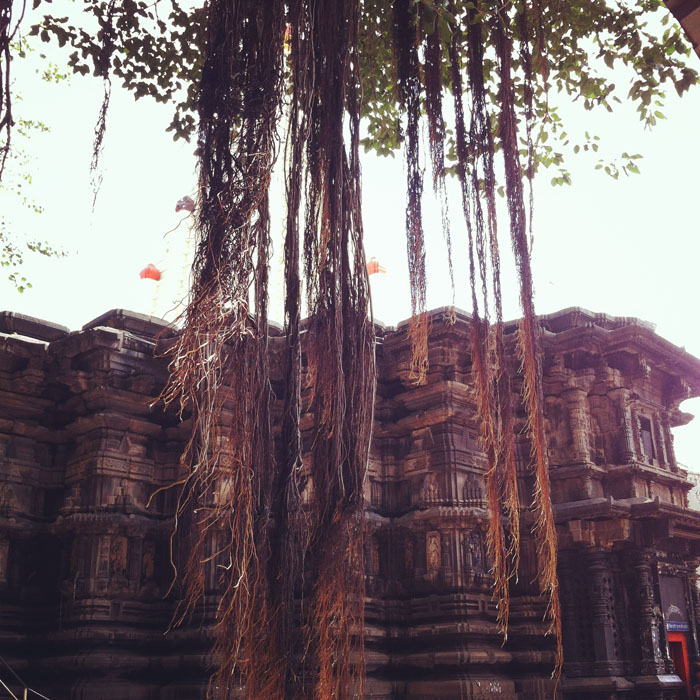 its a neat and clean temple with a great architecture. the temple history goes back to 5000 years. there are many legends associated with the temple.
mahalaxmi temple is also known as ambabai temple. its a form of ma parvati. i asked many local people that is it parvati ma or laxmi ma. they all said it is form of parvati ma and also known as amba bai. this makes sense also as shakti peeth temples are associated with form of parvati ma. since body parts of sati (parvati ma) have fallen down on shakti peethas. in mahalaxmi temple, the sati ma eyes have fallen down.
another legend is that lakshmi ma and lord vishnu always stays here and will stay here till the eternity. a visit to tirupati balaji temple is not considered complete unless the devotee take the blessings of goddess in this temple. there is a small temple of tirupati bala ji in the temple complex. many people visit this temple after visiting tirupati balaji. when you do the temple parikarma then you will get to see many small temples like shani dev temple, tulja bhavani temple, mahishasuramardini, vitthal-rakhmai, shiva, vishnu, navagrahas, surya, tirupati balaji temple and lord dattatreya temple.
another legend i have read is that lord dattreya visit this temple every afternoon to take bhiksha from mahalaxmi ma.
another legend, i have heard is that the temple is made by pandavas. it is definitely a very ancient temple. the temple also has a shri yantra which was installed by adi shankarcharya. there are four massive doors to the temple. the temple is situated in middle of a busy market. its difficult to get parking. best is to take local conveyance like autorikshaw.
the temple has statues of mahalaxmi, mahakali and saraswati ma. the main idol is of mahalaxmi ma. the mahalaxmi ma idol decoration is changed every day. during navratri festival, the sarees which are put on goddess idol is sold as prasad in the temple complex.
special events in mahalaxmi temple:
1. palki – a festival image of the deity is taken out in procession around the temple courtyard each friday, and on full moon days.
above photo is of palki which was taken during navratri festival.
2. kirnotsav celebrations – kirnotsav (festival of Sun rays) is celebrated when the sun rays fall directly on the mahalakshmi idol at the time of sunset on the following days :
31 january & 9 november : sun rays fall directly on the feet of the deity.
1 february & 10 november : sun rays fall directly on the chest of the deity.
2 february & 11 november : sun rays fall directly on the entire body of the deity.
(another temple i know with similar feature is kalaram temple, in panchvati area of nashik, next to sita gufa)
navratri festival – during 9 days of navratri festival around 15 lakh devotees visit the place. special arrangement is made during those days. it will take around 2 to 3 hours in queue during navratri. otherwise on normal days the queue is of 5 to 15 minutes. during navratri, i have seen many villagers taking holy fire from this temple and taking it to their village hundreds of miles away. many people visit the temple barefoot and keep fast during these nine days.
mahalaxmi temple schedule:
starting up the daily routine – 4.30 am
kakadarati – 4.30 am to 6.00 am
morning mahapuja – 8.00 am
holy food (nevaidya) – 9.30 am
afternoon mahapuja – 11.30 am
alankar pooja – 1.30 pm
dhuparti – 8.00 pm
shejarti – 10.00 pm
few suggestions while visiting mahalaxmi temple:
1. best time for good darshan is early morning around 5:30 – 6am. during monsoon, its best to visit the temple when its raining. as you won't find many people inside the temple and can have darshan at ease. every friday night they take goddess palkhi around the temple and large number of devotee from kolhapur come for this occasion. i have seen the palki during navratri festival and there was hardly any space to stand. it was as if whole kolhapur have come for maa darshan.
2. you can also do the abhiskhem inside the temple. my brother and father did the abhiskhem there and they were quite impressed with the way it was conducted unlike other temples. its basically a group abhiskhem with 40-50 people. first they will give you a temple tour and then the abhiskhem rituals.
3. pujaris will not be after you for doing pooja. they also don't push you when you take maa darshan unless its very crowded. the goddess idol is very beautiful and you feel like staying there until you are asked to move on after few seconds.
4. if you are in a hurry then there is a mukh darshan from a distance.
5. while you come out from inner shrine after darshan then one person will give you a food coupon. you get to eat free prasad nearby which i have heard is clean and hygienic
6. laddu prasad is sold for 5 Rs per piece and is quite tasty. its available near shani dev temple as you do temple parikarma.
7. tuesday and friday are special days of goddess. you can purchase sari for goddess idol from outside the temple. green and red color sarees are generally preferred.
8. kolhapur is famous for its spicy kolhapur misal, kolhapuri spicy vada pav, kolhapuri masala. basically it is famous for its spicy and hot food and also for kolhapuri chappals.
9. there are no 4 star or 5 star hotels in kolhapur.
other spiritual places near kolhapur:
1. lord jyotiba temple in wadi ratnagiri near kolhapur. also have a look at yamai devi temple next to jyotiba temple.
2. narsinhwadi datta mandir in kolhapur
3. saint balumama temple in adamapur, kolhapur
4. ganpatipule temple in ratnagiri
5. marleshwar shiva temple
6. tulja bhawani temple in solapur
7. vitthal rukmini mandir in pandharpur
8. kopeshwar temple in kolhapur